Our oldest daughter is ten and she's been playing soccer for five years. We've tried turning her on to other sports, but she keeps coming back to soccer, so we support her in it. She's played on a lot of teams over the years, from five-year-old kids who ran up and down the field in a big clump around the ball, to a group last year that went on to earn championships in both of their season-ending tournaments.
I never played soccer growing up. Soccer was for Communist children the way tennis and golf was for rich children. We played baseball, football and basketball. And we played year-round. We also walked to practices carrying our gear and the cost of playing didn't cost our parents thousands. We learned to play hard, well and fair. Some of the kids I participated with even went on to play at the college level. One went on to the pros. The sportsmanship I learned playing youth sports was critical to my personal development as a contributing member of society. And the memories of camaraderie from that time are still dear to me.
This year my daughter's soccer team is good, but not great. As a group of girls that didn't even know each other before August, it's been interesting to watch them grow as a team while becoming more confident with every match. Their fall regular season ended this weekend, and I'm hopeful they'll grow even more in the spring. But overall, they're a good bunch of kids with a solid coach and they all seem to have a good time out there. Winning isn't necessarily the most important thing.
Not to our kids, anyway.
But winning is the most important thing to some. Three weeks ago, we travelled to a town just north of Charlotte to play a team that was rated number one in our division. According to their statistics, they'd steamrolled every team they played. And after getting dominated by them in our game, I understood why. These girls were big. But that's not why they win. These girls have played together for a few years. But that's not why they win either. These girls are incredibly talented. But still, that's not why they win. They win because they play dirty. During our match with them, they set a tone at the outset that they weren't going to allow our girls to touch a ball without being touched themselves. Hard. They used hands, elbows and at one point as my daughter broke a defensive line and was on the verge of shooting – a girl on the opposing team drove her to the ground with a shoulder. Like a linebacker. The coaches (female) of the opposing team cheered the effort by their player, while my daughter had to be helped off of the field.  We thought she'd broken her wrist trying to break her fall. It took a lot for me not to rush the coaches after that. Physical is one thing. We don't mind physical. Sports are physical. We're ok with physical. Dirty, however, is something else entirely. Besides – these are ten year old children.
So why is this happening? How can parents stand by and let their children be taught this way? I blame ego. No child is born with the intrinsic need to play dirty, or to win at any cost. These are coached traits. A coach that can field a team of thugs and win, has a better record. A better record means higher rankings. Higher rankings look good on resumes. Likewise with the parents – if their child plays on a winning team, they can take that up to the next level in appeals to those coaches. So what if these kids are only ten years old. Screw them. Besides, it's best to teach them the reality of sport early on, right? Sadly, the team that mauled our kids that night didn't need to play the way they did. They were good enough not to.
Thankfully, our daughter is tough. She even returned to the game she was removed from, and played even harder afterward. But the image of her being driven to the ground by an opposing player who then looked over at her coaches for validation – and received it – stayed with me for a week. I sent a strongly-worded email to our coach who agreed about the game and the coaching tactics of the opposing team. As a result, our league has filed an official grievance at the state level against the team of thugs. There's no reason why the safety of children needs to be questioned during a U-11 soccer match.
I still hold out hope that there's a place in the world for fairness. But when we condone, nay, endorse teaching our children the opposite, my hope is thin.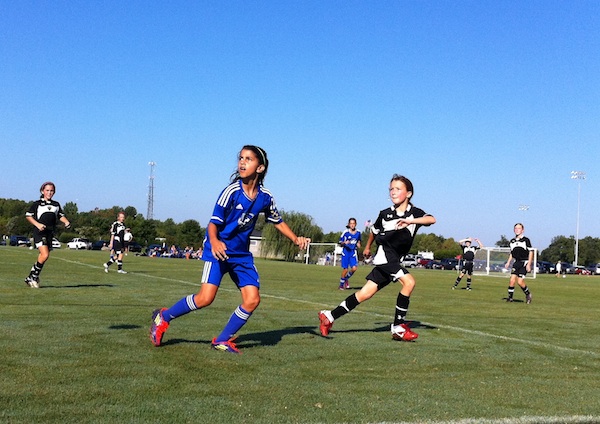 ***