If you know me, you know I have this thing about Walt Disney World. You can read about this mini-obsession in other posts on this blog, but this post isn't about that – it's about the resort itself. We just returned from a week at Disney and I thought I'd take a few minutes and drop some of my knowledge on you. After all, I've been there a lot in my lifetime. So if you're planning a trip there with your kids, this post might actually help. Imagine that – a post by me that actually helps people. Weird.
To qualify, my wife and I have two daughters ages 10 and 8. In this post, I'll talk about the attractions and shows that we like, the places we eat – all that stuff. Note: this post isn't intended to be a comprehensive overview of everything about Walt Disney World (WDW), as people have dedicated whole lives and entire websites to the topic. You see, WDW is massive. Forty-seven square miles massive. Four theme parks, two water parks and twenty-three themed hotels massive. No, this post is about our most recent trip, and the things we did that you might like to do.
The Hotel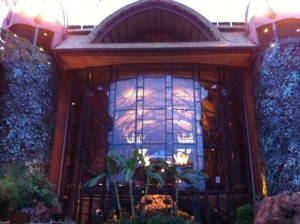 We stayed on property at Disney's Animal Kingdom Lodge (AKL.) It was our second visit to this hotel, and for good reason – it's pure awesome. Dark and rich, the art direction in AKL is breathtaking. A massive resort with nearly 1,300 rooms, it doesn't feel cluttered because of the natural lighting and the expansive savannas that wrap around the back of the resort. AKL features two great restaurants, a cafeteria-style eatery, a large zero-entry pool and oh yes, animals. Despite it being the farthest hotel away from the parks (for the animal's sake), AKL works really well for our family. We love it, and highly recommend it to anyone.
Now on to the parks.
---
This is my favorite Disney park. Yes, I'm an animal guy, but it's more than that. Animal Kingdom (AK) is richly themed with artistic elements taken from every continent. There are no fireworks at AK, and it usually closes pretty early – so when you go, get there when the gates open and enjoy the day.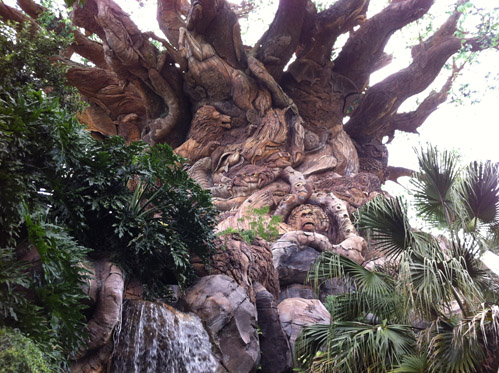 The iconic central figure at this park is the Tree of Life, located on Discovery Island. Ironically, the tree is not alive. But it doesn't matter. A close up look at this massive reproduction and you won't believe your eyes. Embedded in the 'bark' of the tree are layered carvings of animals from every corner of the globe. Seriously, take a long look and you'll discover something new at every turn. Inside of the 'tree' is a 3D show called 'It's Tough to be a Bug' that features the character Flick from "A Bugs Life." Like all Disney shows, this one appeals to people of all ages. Go see it – but don't stand in line more than 30 minutes. And be sure to stay seated until the very end for a fun surprise that will leave you squeamish as you head to the exits.
Dinoland USA is a section of the park dedicated to animals of pre-history. Amidst the fair-like atmosphere, the best attraction here is Dinosaur. This is a loud, bumpy, frightening ride that's no good for small children, but is a fun and brilliant concept that will leave everyone else breathless. Another fun ride here is Primeval Whirl. There's also an amazing playground in Dinoland that can't be missed. Just make sure the kids don't get lost in it – because they can easily kill an hour or two, and there's too many other cool things to see and experience at a park that's not open very late.  The show on this side of the park is called Finding Nemo, The Musical. It's great. Bite the bullet to stand in line and see it. Like with all Broadway-style shows at WDW, there are no Fast Passes (FP) available for this attraction.
Asia is where you'll find Expedition Everest. In my opinion, Everest is the best coaster in all of Disney World. Ride it. Be sure to get Fast Pass, but if the stand-by wait is 20 minutes or shorter, take a walk through the queue and take a look around. Also in Asia is Flights of Wonder – a bird-themed show featuring actual birds. Do this if you can – it's worth the time. Unless it's sweltering outside, you can skip Kali River Rapids. The ride is too short and only features one drop. Even the environmental lesson is lost here. Instead, go right to the Maharajah Jungle Trek for a close up view of the biggest bats you've ever seen, as well as tigers. Yes, tigers. Also while you're here, be sure to take in the stunning art direction in every nook and cranny.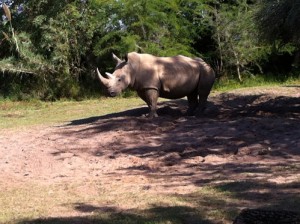 In Africa you've got Kilimanjaro Safari. That's about it. But what an 'it' it is. You can get a Fast Pass, but really, when you're that far back in the park, you're kind of stuck there. If the wait is 20 minutes, stay and walk through. After the ride, check out Pangani Exploration Trail for a really cool aviary and gorillas (there's even mist.)
Raffia's Planet Watch is even farther back in the park and is only accessible via train. It features a nice educational experience – but, we've only done this attraction once (ever.) It was ok, but it's not breathtaking. And we like breathtaking. This area is great for small children who will be fascinated with the petting zoo, or people who aren't really into seeing everything.
Camp Mini Mickey has one thing we like to do – Festival of The Lion King show. See it if you can, but I thought Nemo was way better. And you probably won't have time for both shows in the same day. I couldn't put my finger on it, but overall this show felt different than when we saw it a few years ago. It's as if they focus grouped it to death and ripped all the passion out of it. Still, you and your kids will know all the songs, and the theater in the round is impressive.
Dining at AK is solid. Flame Tree offers excellent barbecue and Yak and Yetti (created by the Rainforest Cafe people) has an excellent counter service menu.
---
I know what you're thinking – lame, right? Well not so fast. With Soarin', Mission Space and Test Track, the Future World section of Epcot features three pretty stellar thrill rides. And World Showcase has some of the coolest forced perspective and architecture you'll find anywhere. Epcot is big. Really big. Bring your walking shoes. Pretty cool fact – it took three years to build Epcot and at 800 million dollars it was the largest construction project on earth at the time.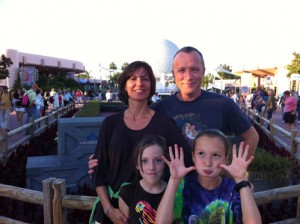 When you enter the park, you're in Future World. Go to Future World west (to the right when you enter the park) and proceed directly to The Land for a Fast Pass to Soarin' (so you can avoid the boring stand-by queue – which is almost alway more than an hour.) When you have your FP, check out Living with the Land (in the same building) – a slow moving boat ride that offers an educational look at the future of farming. Don't laugh – it's actually quite good. There's also a cool movie in The Land called Circle of Life. See it if you can. There are also two restaurants in this building. Both of them are pretty good. But you're going to need reservations for Garden Grill. Oh, and Soarin'? Awesome. Note – children must be at least 40" to experience this attraction.
Also on the west side of Future World you'll find the Honey I Shrunk the Audience 3D movie – which is pretty good. There's also Journey into Imagination (meh) and The Seas – which houses a massive saltwater aquarium and a couple of Nemo themed rides/shows. We skipped all these other things on this trip, and focused mostly on the stuff in The Land. Oh, and at at some point you're going to want to ride the big ball (aka Spaceship Earth.) It's requisite. And it features narration by Dame Judy Dench, which is pretty cool.
On the east side of Future World you've got Mission Space, Universe of Energy and Test Track. Mission Space is pretty awesome, though I've only done the 'intense' version once. You can do the less intense version and walk away happy – without feeling all vomity. The ride features Gary Sinese. I like him. Get a Fast Pass for Test Track and then go kill 45 minutes with Ellen DeGeneres at Universe of Energy before heading back to Test Track for a thrilling spin. After that, head over to World Showcase to eat, drink and shop your way around the globe.
Every place we've ever eaten in World Showcase is solid (except Mexico) – especially England, France and Italy. We never been able to get reservations for Le Cellier (in Canada,) and my wife keeps getting outvoted to eat in Morocco – but we'll do them one day. Be sure to spend some time browsing through the shops in each country too, and hit up each area's specific attraction as well. Note – if you ride the Maelstrom in Norway (which offers the only Fast Pass in World Showcase), you don't have to stay for the movie afterward. Just go right to the exit. Or stay. It's up to you, really. I just wanted you to know you that don't have to. We don't. It feels a little rude, but it's fine. This is America.
The fireworks show at Epcot, called Illuminations, is spectacular. Bad ass, even. The best of any fireworks show at WDW, in my opinion.
(The photo here was taken from the Japan pavilion where we had dinner at Teppan Edo.)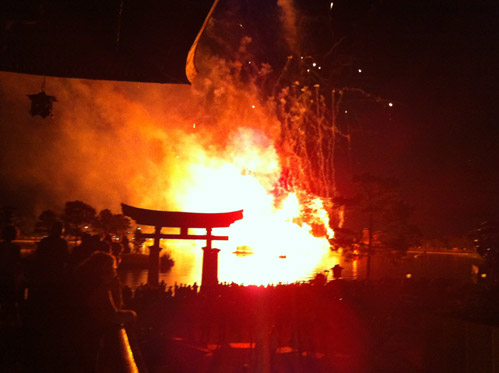 ---
Small, but with some great shows, rides and excellent dining – Hollywood Studios is a highly underrated park. Although for us, there are a lot of wasted attractions here like American Idol or the Extreme Stunt Show. And since our kids have never seen an Indiana Jones movie, we have always skipped the Indiana Jones Epic Stunt Spectacular too – which basically frees up an hour for us (between the wait time and the actual show.)
Rock 'n' Roller Coaster is a short, but amazing, ride featuring the band Aerosmith. There are no grades to climb, as the coaster propels you into darkness at 4.5 Gs and directly into a corkscrew. A couple of more inversions later, and it's over. But it's fun. We've always used a Fast Pass for this ride, as the line is long and the queue isn't all that.
My favorite ride in any of the Disney parks is Tower of Terror. The attraction is based on the old TV show Twilight Zone and even features Rod Sterling narrating (ok, it's not really him, but you can't tell.) This ride drops you something like 13 floors, but get this – it doesn't just drop you. It pulls you down – faster than the speed of gravity. Then it goes up, and back down again. Sometimes more than twice – the sequence is random. And while the ride itself is certainly exhilarating, the best part of this attraction is the art direction. Don't worry about a Fast Pass here, save that for Rock 'n' Roller Coaster and go through the Tower of Terror stand-by queue instead (it moves pretty quickly) and then pay attention to the details, because every nook and cranny of this place is heavily themed. Right down to the spider webs.
Beauty and the Beast is a must see show even if you didn't like the movie or you're one of those people who think that the story sets a bad example for girls. In my opinion this is the best Broadway-styled show in any WDW park. The costumes are amazing, the songs are memorable and the actors are totally into it. Especially "I'm especially good at expectorating" Gaston. We've seen the Broadway version of this show, and this truncated Hollywood Studios version is better. Just see it. Trust me.
Star Tours is WOW. This attraction was recently revamped and they did an amazing job. It's a simulator ride with 54 different experience possibilities. Meaning you could ride it all day and possibly never have the same experience twice. The graphics are incredible. George Lucas and the Disney Imagineers really did a wonderful job refurbing this ride. It's an absolute must for fans of the movie. Or anyone, really.
The Great Movie Ride – Yes, it's slow and yes there are animatronics, but we make a point to ride it every time we visit. It's something like a history lesson on Hollywood.
Voyage of the Little Mermaid – If you've got girls, you've got to see this show. It's about a song or two shorter than I remember it from previous visits, but it still works and the kids love it.
Maybe the best playground I've ever seen is Honey I Shrunk the Kids Movie Set Adventure – I was even half tempted to climb into the spider's web with the kids when we were there last week. And no visit to Hollywood Studios is complete without seeing Statler and Waldorf heckle during the Muppet Vision 3D show.
Most people will want do the Toy Story Mania ride because it's new, and it appeals to people of all ages. We've done it in the past, but not on the trip last week. It's always a long wait, and we burned our Fast Passes on other attractions, so we skipped it. If you've got very small children, you might not get so lucky. To its credit, it is a pretty cool arcade-styled ride. If you're into that type of thing.
There are tons of places to eat in Hollywood Studios, but we go to two places again and again: Sci-Fi Dine In Theater for lunch and Prime Time Cafe for dinner. Both restaurants offer completely unique experiences that I highly recommend. And yes, the food is damn good at both places. If you go to Mama's House (aka Prime Time) be sure to keep your elbows off the tables, or else face the wrath of your server. Note: if you do go to Prime Time (and you'll need a reservation), see if you can be seated in Jason's section. Trust me.
The fireworks show at Hollywood Studios, called Fantasmic, is good (it's not a traditional 'in the air' show) but not good enough for us to burn an hour waiting to see it. We'd much rather ride Star Tours over and over instead.
---
This is the park that fascinated me as a 7-year old boy when it opened in 1971. If you like parades (I don't) this is the park for you. If you like fireworks, the ones here will inspire you to believe in the impossible. If you like to drink alcohol while doing a theme park, you're going to be disappointed because unlike every other theme park in WDW – no alcohol is served here.
So many rides. So many themed sections. I'll never get through this post if I'm not efficient here. So here it goes.
Main Street USA – this is the area of the park you enter when you walk through the gate. Gift shops and candy shops line Main Street. We almost never stop in any of them, and instead head right for the attractions. So that's what I'll do here.
Once you pass through Main Street toward Cinderella's Castle, you're faced with a decision on which section of the park to explore first. To your left are Adventureland, Frontierland and Liberty Square. If you go straight through/around the castle,  you'll hit Fantasyland. To your right is Tomorrowland. Let's go to the right.
Tomorrowland is where you'll find Space Mountain. It's a rollercoaster in the dark – but it's not crazy-fast like Rock 'n' Roller Coaster in Hollywood Studios. This one goes round and round more than anything else. But it's pretty cool. If there's a long wait, get a Fast Pass and then head over to the Monsters Inc. Laugh Floor for a pretty funny improvisational comedy show starring – you. Also in this section of the park you've got AstroOrbiter (a higher up version of the Dumbo the Flying Elephants or Aladdin's Magic Carpets rides you'll see later), Tomorrowland Speedway, Stitch's Great Escape and Buzz Lightyear's Spaceranger Spin. Our daughters liked the Speedway because they were each finally tall enough to take the wheel. The Stitch show used to be really thrilling when it was based on the movie Aliens, but that was too scary for most guests – so they toned it down with Stitch and it's lost most of its appeal, in my opinion. Still, if you've got the time, go see it and check it off of your list. Buzz Lightyear is an arcade-style ride like Toy Story Mania (Hollywood Studios) just different.
From Tomorrowland, continue around the castle and you're in Fantasyland. The first thing you'll see here is the Mad Hatter's Teacups. I hate spinny rides, so we just keep walking past this and the kids don't even ask. You might like to be spun around, though. Good luck with that. Fantasyland is for little kids and people with big imaginations. My family all have the latter, so we hit most of the attractions here, including Winnie the Pooh, Snow White's Scary Aventure, It's a Small World and Peter Pan. If you want to take a step back in time, make sure you ride Snow White because that attraction is closing forever soon, and it's an original from 1971 (like many here at the Magic Kingdom.) Peter Pan is like that too, but with lines that are routinely 90 minutes or more, you'll want to get a Fast Pass for Neverland. One thing you definitely want to see in Fantasyland is Mickey's PhilharMagic – absolutely the best 3D show in any of the parks.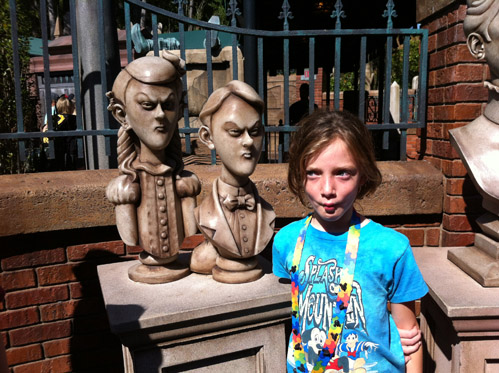 From Fantasyland, you'll cross over into Liberty Square where my favorite Magic Kingdom attraction awaits – The Haunted Mansion. I've loved this ride for 40 years, and now they've added an interactive graveyard to the stand-by queue. Total fun. The night we were there late, my oldest daughter and I closed down Magic Kingdom and were the last people on this ride. She thought that was totally cool (and it was.) Also in this section of the park are the Hall of Presidents, Tom Sawyer's Island and a Riverboat. The Hall is great if your kids are a little older, and while Tom Sawyer's Island is nice – it's a huge time suck. And the thing about Disney World is that time is against you – you'll never see all the things you want if you get pulled into the time suck attractions. Speaking of time suck, our kids do the pin trading thing – but they do it in moderation. Because if you stop to trade and vet and evaluate pins with Cast Members all day, you're screwed. And believe me, the Cast Members like to trade pins.
From Liberty Square, you'll walk through Frontierland. There's an old show here called Country Bears Jamboree. Meh. It probably appeals most to young children and older people – in other words, people who aren't going to ride Splash Mountain and Big Thunder Mountain Railroad. If you've got kids above 40", skip the Bears and head to the thrill rides. Splash Mountain is especially cool if it's hot outside. It has one pretty big drop that I guarantee you you'll look funny on in the picture at the end of the ride. Thunder Railroad is like Space Mountain outdoors, but of course heavily art directed and art directed so that it feels like a completely different type of experience.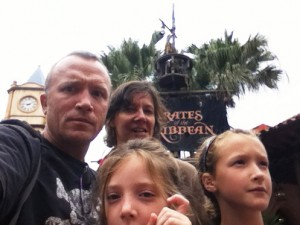 Which brings us to Adventureland. Richly themed, this section of the park features two of my favorite 'imagination' attractions in the Jungle Cruise and Pirates of the Caribbean. See both – you won't be sorry. And if you can, see Jungle Cruise at night. I don't know why, but it's just better at night for some reason. Currently, the Swiss Family Robinson Treehouse is down for refurbishment, so if you need something else to do in Adventureland, try Aladdin's Flying Carpets or the Enchanted Tiki Room.  Look, you're not getting away with a trip to the Magic Kingdom without doing one of the flying things (Dumbo, Aladdin, Astro Orbiter) – so bite the bullet.
Dining at Magic Kingdom is a lot better than back in the 70s, but still not as diverse as in the other parks. For lunch try the burritos in Tortuga Tavern (Adventureland) or burgers at Pecos Bill Cafe or any number of other places sprinkled throughout the park. For fancier fare, there's Crystal Palace (w/characters), Cinderella's Castle, Tony's Town Square (near the front gate as you enter the park) or our favorite, Liberty Tree Tavern (across from the Hall of Presidents.) Just remember, you're going to need reservations for those.
The fireworks at Magic Kingdom are always epic. The parades are always long. But hey, most kids like parades, so you might have to deal with it. Besides, there are usually princesses.
---
Other stuff:
Pictures: Don't buy the pictures after the rides unless you simply can't do without them and have money to burn. We bought a few of them when they first started taking them years ago,  but we don't display them in our house so they basically sit in an envelope in the attic. Plus, they don't give you digital copies – only paper. Rather, when you get off of a cool ride where everyone has one of those faces, pull out your mobile device and stand as close as you can to the screen and snap a picture. No, it's not going to be nice and clear like theirs will be, but you'll enjoy it nonetheless and save yourself between $15-40. Another thing about pictures is that wherever you go there are Cast Members who take pictures of you. They all carry nice big cameras and are usually in the best spots (like on Main Street in the Magic Kingdom with the Castle behind you) and they use flash lighting so the pictures come out perfect. They'll then hand you a card so you can go online and see the pictures – and of course order them. Two things: 1) use the same card wherever you go, and just hand the card to the Cast Member. It's wasteful to use so much plastic. And 2) Ask the Cast Member to take your picture using YOUR camera. They all do it. And you don't have to buy the same composition online.
Pin trading: As mentioned previously, kids really get into this stuff. But I'm here to tell you that if you stop at every Cast Member to trade pins, it's going to be a long day. What we did was have the kids bring 3 *tradable* pins to the park each day, and that's all they would trade. The process was usually over by mid-morning.
Characters: You could spend half a day at the parks trying to meet characters. The best thing to do is make a reservation at a restaurant that has character dining. Otherwise, you're standing in lines to meet Chip and Dale when you could be riding Space Mountain. Granted, Disney does a good job of getting characters out at the parks, but if you're not there to catch them when they first arrive, you're waiting in a long line.
Downtown Disney: Brand immersion shopping. If you get a chance, and have a couple of hours to kill, make a trip over there. It's pretty cool. Yes, everything's expensive, but the immersion and range of diversity is like nothing you've ever seen.
Water Parks: If it's warm enough – go to either Blizzard Beach or Typhoon Lagoon. I've been to plenty of water parks in my day, and nothing compares with what Disney does with water. These water parks are so cool, in fact, that when we vacation in St. Augustine each summer, we make a 2-hour drive down to Kissimmee just to spend a day at one of these parks.
Magic: For me, the magic of Walt Disney World has always been the immersive environment, art direction and attention to detail. Especially the attention to detail. Nothing is insignificant at Disney. For example, in Hollywood Studios there's a big green dinosaur in Echo Lake from which you can buy ice cream and snacks. Now walk around the back side of the dinosaur and look down. You'll see cracks in the sidewalk leading up to where the dino now stands in the water. The cracks are from the dino walking to its current spot. Likewise, when you're on Streets of America, also in Hollywood Studios, and you're walking through New York, look down at the pavement. There are cracks and filled potholes everywhere – just like in NYC. Disney doesn't make many mistakes with the immersion stuff, so be sure to take a good look around – no matter where you are. There's magic in the details.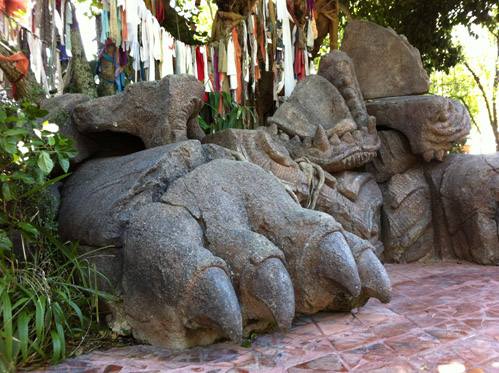 Cast Members: The biggest take-away for me last week was how amazing Disney cast members are. No, really. These people don't just 'do' their jobs and treat you as though you were part of their daily routines between them punching in and out on the clock – they are all unbelievably nice and courteous and helpful and, well, you get the picture. We complain a lot about customer service in the real world. At WDW, they set the service bar so high that I honestly don't think it's replicable. I don't know how they do it, but they vet their human resources so well at Disney that the result really is magical. I'll give you one example, while we were at Epcot during this last trip, our oldest daughter was looking for a special pin. She was having a hard time finding it on any of the Cast Member's lanyards, and cheap dad (that's me) wasn't going to buy it. Somehow, one of the Cast Members overheard her wish to find this particular pin, and then a couple of minutes later he walked up to us holding out his lanyard saying, "Would anyone like to make a trade?" On his lanyard was the pin that she was looking for. This guy basically went over to a display of pins for sale, took the one off that she wanted, and placed it on his own lanyard. You want to talk about magical? Yeah.
Money: If you walk around WDW thinking about the money you're spending, you're going to be miserable. Don't do it. Just don't be an idiot and buy everything you see. Because even though they give you the cards with the automatic credit back to your room (if you're staying on property), it's still real money. We set a budget of like $100 a day, but our food was included on the meal plan, so most of our budget went to gratuity and a little something extra each day.
Planning: A trip to Walt Disney World is not like a day trip to Six Flags. To get the most out of your visit requires planning. I know there are some people who would rather not take the time to plan an itinerary, but whether you do it yourself or you pay someone else to do it, if you don't have a plan in place you're likely to leave WDW scratching your head. And I'm not just talking about planning your trips around a specific park, either. I mean planning your entire vacation. As mentioned previously, WDW is huge. There are transportation issues to consider – including transfers. With 23 hotels, you're free to dine anywhere on the property – and to do so means having reservations. For example, our hotel (AKL) features one of the best restaurants on the property (Boma). People come from different hotels, and even off site, to eat here. But you can't just walk up. You must have a reservation. The same goes for dining in any of the parks. Other than the counter service restaurants, you must have a reservation for places like Sci-Fi and Prime Time. And that takes planning. However, the planning can be fun. Or at least that's what my wife says – since she does all the planning and reservations for us. Anyway, plan.
Am I forgetting anything? Absolutely. Even at nearly 4,800 words – my longest blog post ever – I'm only scratching the surface on all of the stuff to do at Walt Disney World. My advice? Just go and enjoy it for yourself. And don't be afraid to let go and become a child while you're there.
For the full Flickr gallery of our trip last week, click here.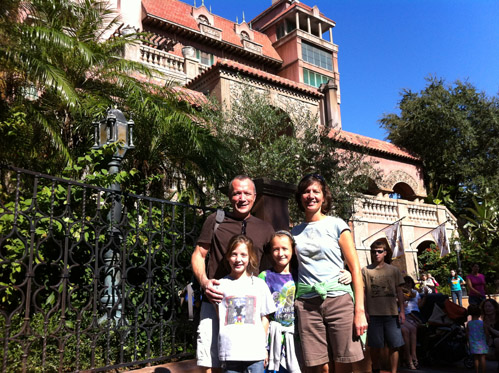 ---