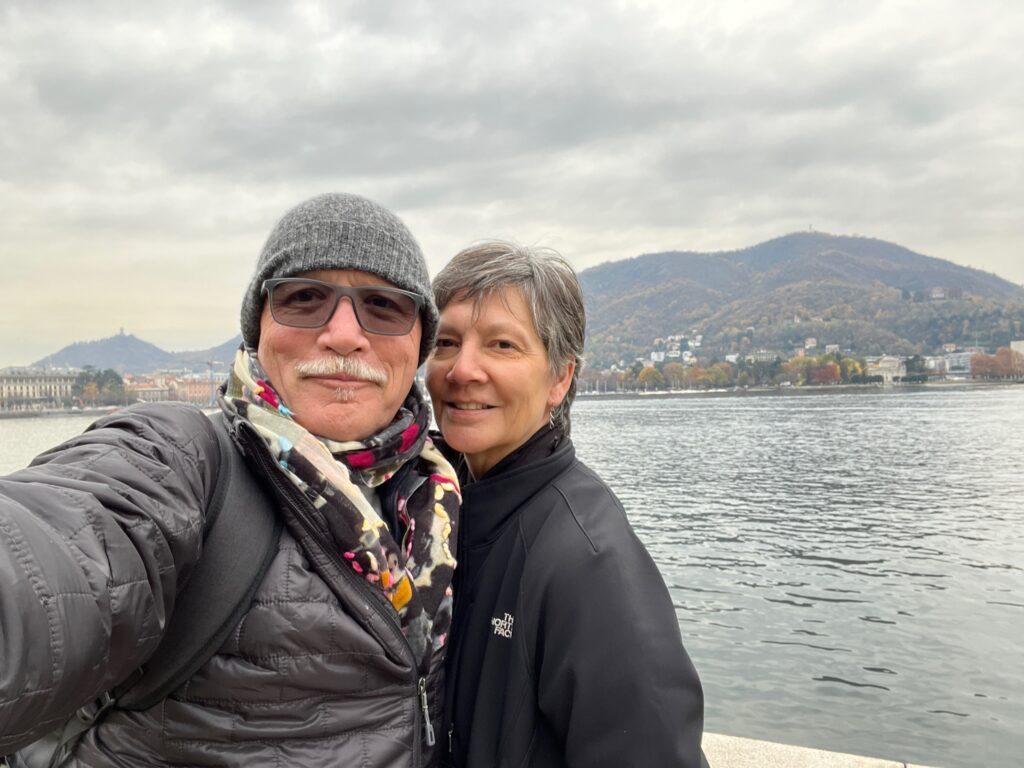 Disclaimer: I'm gonna try and not turn this into a 5K word post, but dammit I have a lot to share.
Over the Thanksgiving break in the US, my wife and I traveled to Italy to celebrate our 25th wedding anniversary. Our anniversary was in the spring, but we were still shaky from my cancer surgery, so once I recovered and we saw that Wolf Alice was playing in Milan at the end of November, we booked. Granted, I'm a bigger WA fan than she is but my wife's so cool that she went along with it. And because her birthday fell during our trip, we decided to make the most of it.
We spent six days exploring Milan and one at Lake Como. Oh, and the 30th anniversary of the day we met occurred during the trip. A complete coincidence we weren't even aware of when we booked.
In the weeks leading up to our first-ever trip across the Atlantic, I was apprehensive to say the least. But I quickly got over that when the Uber pulled into the driveway to sweep us away. I was going on an adventure with my best friend. I was stoked.
Our flight over was at night, and we got to see the sunrise on the horizon from six miles up. As we made the turn south toward Milan, I looked out the window and couldn't believe my eyes. The Alps. It felt like we were going to scrape the bottom of the bird on those peaks.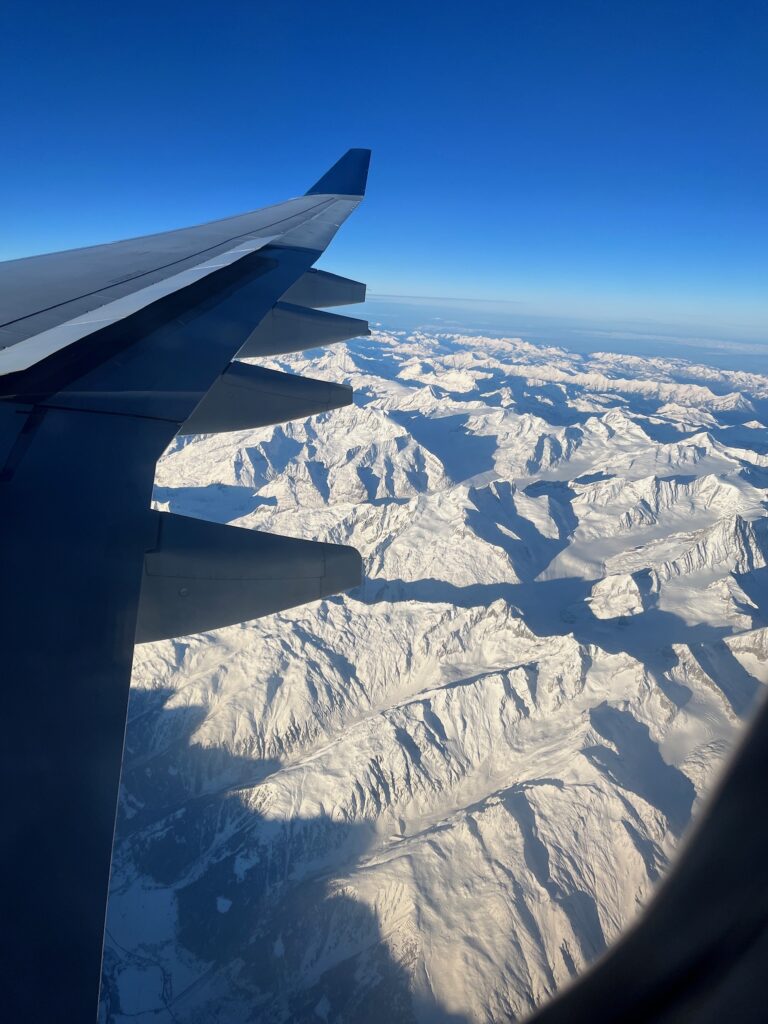 The rest of the trip was similar – pure eye candy for someone who's been stuck on the other side of the Atlantic his whole life. Italy is ancient. And Milan is the most beautiful city I've ever seen.
We walked 57 miles during our stay. We moved around a lot – dropping in for espressos in this cafe, gelatos in that. Ancient, majestic beauty was everywhere we turned – but most notably in the facades of the giant buildings that lined so many winding streets. My wife said it was like walking around in a museum.
We stayed at an AirBnb in a neighborhood on the north side of town called Isola. It was a normal city neighborhood, but for it being ancient. Outside of our building was a roundabout and we learned immediately that we had the right of way in crosswalks – not the cars. Across from our building were four narrow streets that came off the roundabout. When we woke up on our third morning, we walked out of our apartment and into an open air street market that wrapped for blocks. Meats, cheeses, produce, clothing, handmade goods – it's how the people in the neighborhood got their provisions for the week. Very cool.
The day we arrived we walked a few miles to the Four Seasons for a couples massage. We had been traveling a full day with maybe an hour sleep each during the night flight. The massage was a stroke of freaking genius and well worth being the costliest expense we incurred during our trip. Before going in for the massage we hung out in the lobby for a spell, and had gelato for the first time. That's when I realized we'd be eating a lot of it over the next week. She had wine that was so deep and rich looking, her eyes lit up when she sipped it.
On our first full day, we set out to master the metro. I screwed up and was using Google maps. We got turned around on the train to The Duomo, but finally figured it out. Being completely illiterate to the language of another country is a heavy thing to accept and overcome. As we blindly followed a crowd of people up the steps of the subway, my wife was looking down at me as she walked ahead – that's when I saw it. The Duomo. "Honey, look up," I said flatly. We had decided to renew our vows on the roof of the ancient cathedral, so seeing it for the first time was pretty remarkable – especially walking out of a subway and literally at the foot of this thing. Before taking our tour we explored the area around cathedral which to me was kinda weird. I mean it's a church. An opulent church. And from what I know about God, serving/worshiping God is all about humility. But the mall around the church was chock with commercialism. High end commercialism. Rolex. Boss. Those fancy Italian purses. It just felt a little weird.
We eventually made our way to the roof of The Duomo and of course the views were spectacular. On the street far below a man was singing opera – his voice rising through the spires to meet us. In the distance, The Alps. And stretched out before of us for 360 degrees, Milano with its skyscrapers intermingled with terracotta roofs and peppered with cathedrals. We found a quiet cove and I took out the piece of paper with our vows. I read mine first. Before reading hers, she said about the man singing below, "If he sings our wedding song I'm going to lose it." No sooner did she finish her vows in a tender ceremony atop what essentially was a castle in Europe – the man began singing Ave Maria, the song that played at our wedding as Tina walked down the aisle. We both stood there in disbelief. Another reminder that God is actively present in our lives. It was truly a fairytale moment.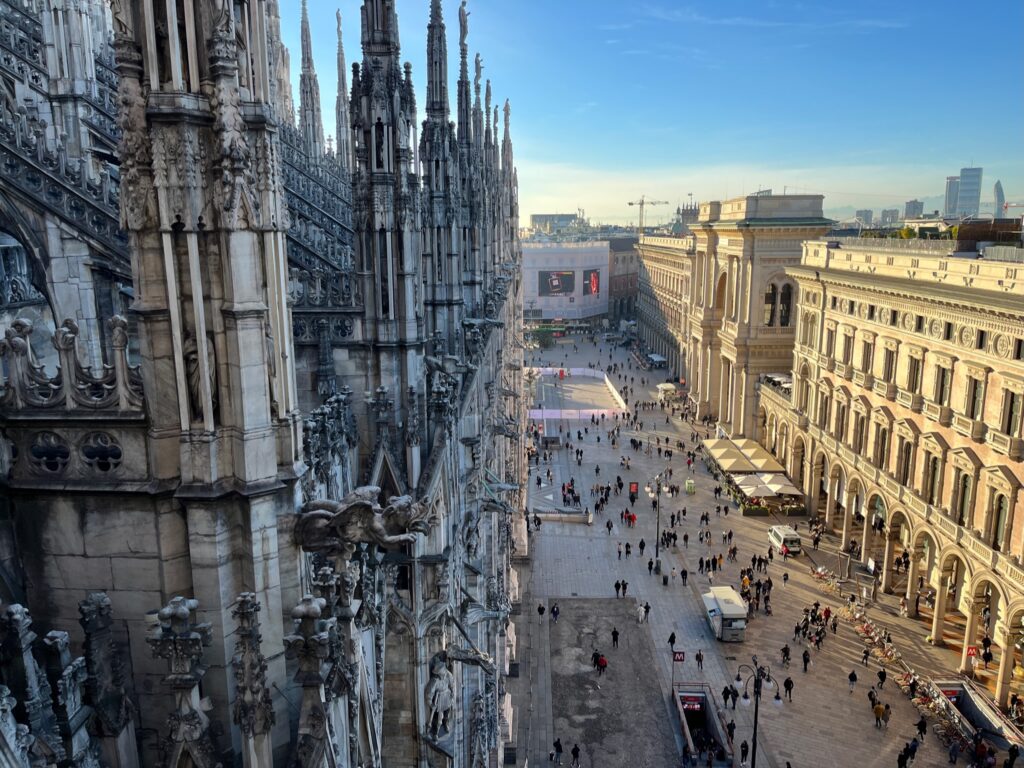 By our second day, we switched from Google Maps to Apple Maps (thanks Laurie) and mastered the transportation system like bosses. Subways, trams, busses, trolleys – we were all up in it. But really, when you travel to Europe, use Apple Maps. You'll know why immediately without me going into it here.
A few highlights of our 7-day trip:
We saw the most amazing urban memorial garden. If you go to Milan for more than a day or two, you must see this place. Stunning and hauntingly beautiful.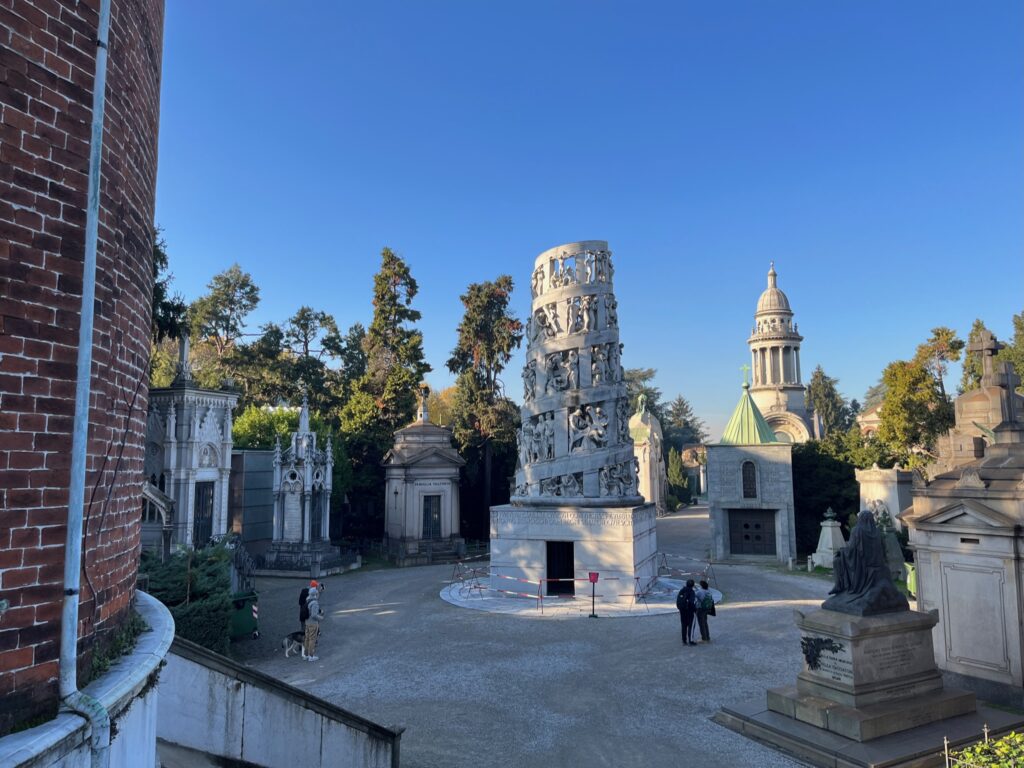 Wolf Alice was brilliant. I'm a huge fan of their music – certain bands are just in line with your life's vibe. And this band is in line with mine at this point in my life. Plus, seeing a concert in a foreign country was a trip, but rock and roll is rock and roll and it was a great show – the last of the band's worldwide tour that started in October 2021. 
We walked through a ton of churches. Which, surprisingly, were all open. And free. And boy – the interiors were consistently awesome in the most literal sense of that overused word. If you've ever seen Lord of the Rings – Fellowship of the Ring, think of the scene in the mines of Moria where giant columns held up the mountain. Well that's what it was like in some of these churches (especially The Duomo), which all had frescoes in the ceilings. Seeing this opulence up close made me think about how simple my own relationship with God is, and wonder whether I'm doing it wrong. One thing's for sure, long ago people toiled endlessly to honor God and gain favor. Just remarkable.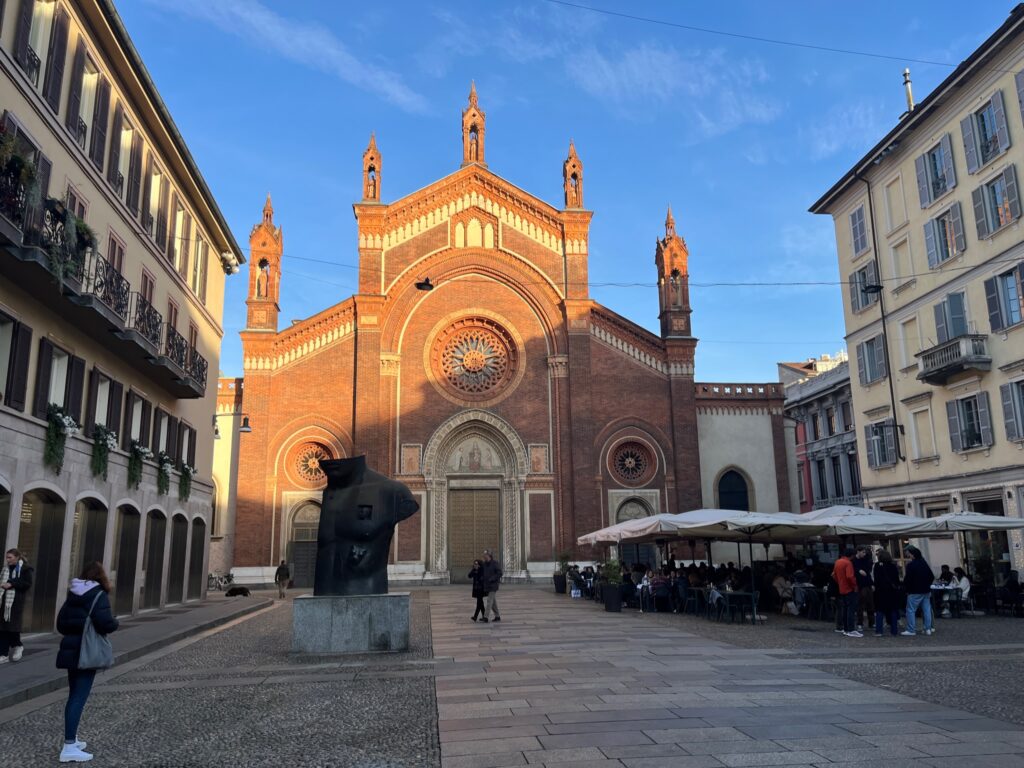 Food turned out to be one of our biggest challenges. Real food, I mean. Not the danishes and espresso for breakfast. Lunch and dinner. I'm a super picky eater and the style of pizza in Milan (I understand it changes as you move around the country) just wasn't working for me. Which wasn't a big deal because I filled this void with seafood. Which was delicious at every meal. The tough adjustment for us was the rhythm of the place – restaurants shut down at 2 and didn't open up again until 7. Which is to say if you didn't have a seat in a restaurant by 1230, you weren't eating lunch there. We had some great meals toward the end of our trip and found the best Chinese place ever just a block from our apartment. The gelato was amazing throughout the city. My favorite combination was coconut and pistachio. It's been a month, and I still dream of that gelato.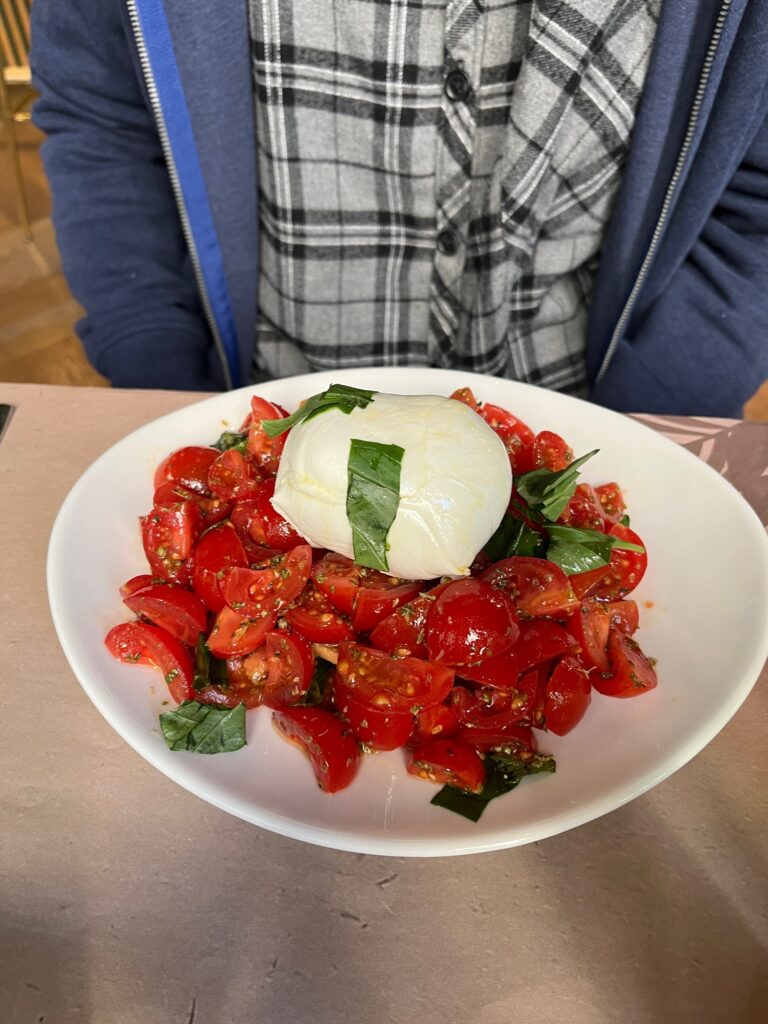 One day after seeing a tiny medieval church with walls made of human skulls, we decided to hit the metro and go see the bar that Wes Anderson designed – Bar Luce. It was very Wes Anderson.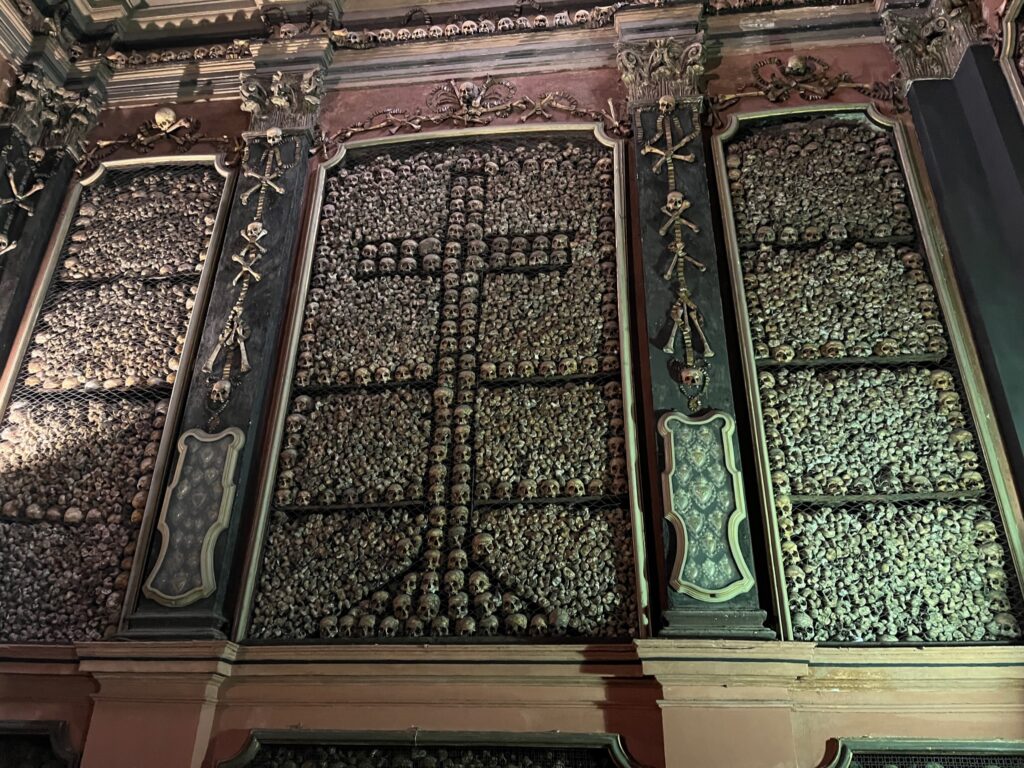 Other first-time observations about Milano and Italy in general: 
The food is relatively inexpensive compared to the US.
Public transportation in Milan is freaking amazing. Blows anything we have in the US away.
Uber is very expensive. But we only took it to and from the airport (which was almost an hour away) and the concert. However, you can only get Uber Black there – so we rode in Audis, Mercedes, and Teslas. Black ones.
IN ITALY PEDESTRIANS HAVE THE RIGHT OF WAY. It's so amazing and a huge difference to life in the US.
All drivers use turn signals. I was like … what????
There's no tipping. Evidently people in Italy make living wages. I was like … what????
Two words: olive oil and bread. ❤️
Little coffees and pastries. I can't lie the first thing I did the morning we got back to the US was have bacon egg and cheese on an everything bagel. And a full cup of coffee. I drank my weight in espressos while we were in Italy.
They take recycling way more seriously than we do in the US.
Gelato. If you aint had it there, you aint had it.
They put pistachio in everything. And it's glorious.
Siestas. It wasn't how I pictured it, but when it came to food it was serious business (restaurants closed between 2-7.)
Open air markets were everywhere.
In cafes you don't pay until you're ready to leave.
Public art was ubiquitous.
The men are gorgeous. Sure, they dress nicer than here, but it's more than that. Their skin. Their hair. Their air of confidence. It was a little humbling. (ok a lot)
People are generally quite thin. Which is to say I didn't notice one person who was obese. Not that I was looking for that, but after a couple of days it just happened to occur to me – that's when I started paying attention. And when I did, it was shocking. I'll call it less processed foods (we had none the whole time there.) 
We were able to walk so much because of all the twisty, turny streets that felt like little canyons draped in intricate facades.
Milan was very clean. No garbage. No rats or traps in sight. Didn't even see any bugs. 
There was a LOT of graffiti. So much so that it felt like graffiti artists were accepted or even encouraged. Granted, none of the important things were tagged – but it was everywhere else.
Lots of bikes and motorcycles.
Lots of Rolexes and luxury automobiles.
There were dogs everywhere! With people. No strays from what we saw.
Lots of smoking – but mostly e-cigs. And yet only once did I catch a whiff of weed. 
They're still using masks there. I'd say 25% of the people donned them. Granted, they got whacked by the pandemic in the early stages – so I'm sure that's just very fresh. 
People talk during food/coffee. No one was on phones/computers. They actually sat with other people and TALKED.
The window displays in the retail areas of Milan rival anything I've ever seen.
Either they don't have nearly the homeless problem in Italy that we do in the US, or else they've figured out how to hide them. We went to Denver over the summer and spent a day walking around that city and homelessness was everywhere you turned. People shooting up. People screaming at themselves. Defecating the sidewalk. In Milan we saw maybe 3 homeless people. 
Apple Pay is the way to go if you go to Italy. I'm sure it's like this throughout Europe, but it felt like they are way ahead of us in the US when it comes to convenient ways to pay. Everywhere.
So that's it. The flight back was hard – as we flew into the blinding sun the whole way and then had a four hour layover at JFK before getting home around midnight after 23 hours of travel with no sleep. It definitely didn't ruin the trip though, and we both agreed that we'd love to return to Italy to experience more of that beautiful country.
On the flight back we started planning our next adventure in 2023 – to Barcelona. Man, I am so lucky.