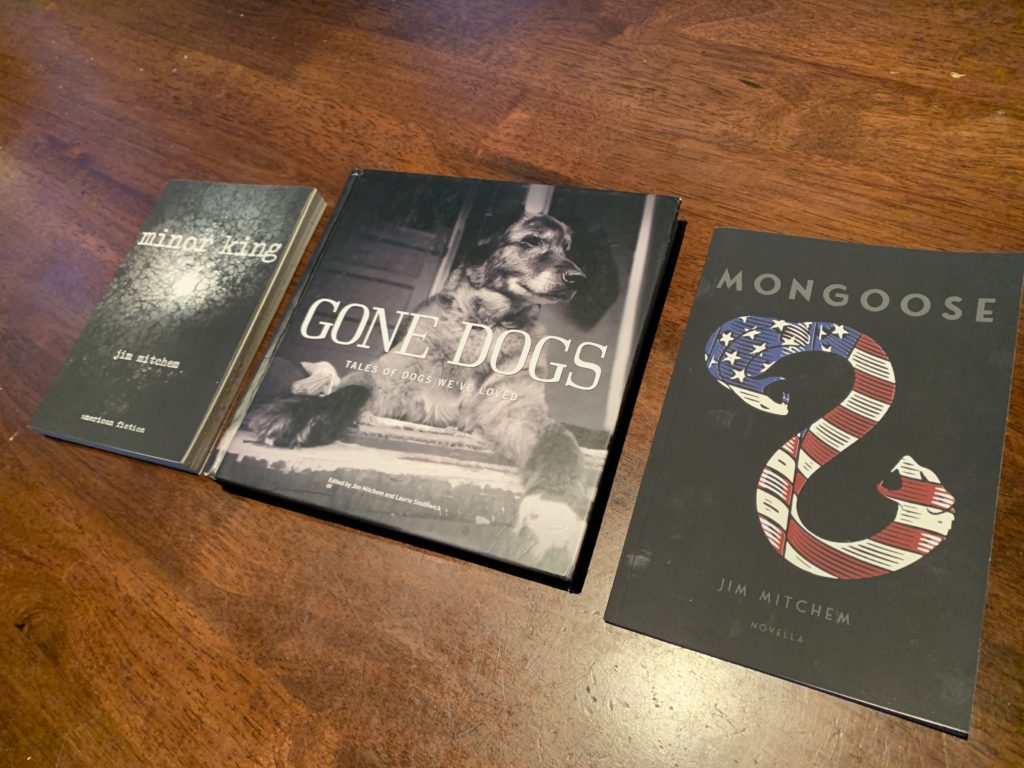 As y'all know, I have this book called Gone Dogs. It's a crowd-sourced anthology of 52 stories from people around the world sharing the dogs of their lives. It took 5-years to build it. And it's stunning.
We received our inaugural shipment of hardcover books last August from our printer in South Korea. Two pallets. It was pretty exciting. We shipped 90% of them to Amazon for fulfillment, and all but sold out by February.
Then, as we were riding that momentum into 2020, the world stopped spinning. As a result, our ambitious plans for the book this year ground to a halt. The second volume of our book, as well as a hardcover reprint of volume one, would have to wait.
Nonetheless, despite all the distractions, my publishing partner Laurie and I committed to getting the softcover version of our best-selling and highly rated book finished by December.
And somehow, we did.
Then we found a great printer out of the Triad (NC) that could print the quality we require, and placed an order for about 400 softcover books in both black and white and full color. I've ramped up the advertising, social and engagement, and content. I've ordered postage, mailing boxes, and shipping tape. I'm ready.
So now my job shifts from logistics, web dev, and production to marketing, advertising, sales, and fulfillment. Oh, and customer service. It's basically a full time job. You know, to go along with my regular full time job. And a life.
But sales is the main thing. And December is peak season.
I've been in advertising a long time. I know how it works. But it does take time to work, and time is something I don't have a lot of right now.
Think, Jim. Think!
While we have a strong and loyal fanbase, we've only barely scratched the surface of the "dog universe." And until we can land a title sponsor (oh hello, Subaru), the marketing stuff mostly falls on me and Laurie and our expectations are modest–but represent a solid branding foothold from which to step farther.
So I'm over here thinking, how I can ask (or rather, continue to ask) my friends to shill for me?
Frankly, I don't know. But I do know that I can offer something in return. I'm a writer. I have books. So I'm giving away books. I'll even pay the shipping.
I will send a bundle of my three books (Minor King, Mongoose*, and Gone Dogs), all signed, to 5 lucky winners. (I have to say lucky, you know, otherwise it sounds lame.)
How to enter:
1) Tweet or post on Facebook something nice about Gone Dogs using the link GoneDogs.com/Buy.
2) TAG ME in the post so I can see it (@jmitchem on Twitter, or just me on Facebook).
And that's it. Simple, right?
Here's a template to make it easy:
"My friend @jmitchem has this amazing dog book called Gone Dogs. Check it out at GoneDogs.com/buy."
The contest runs through Saturday, December 19. I'll keep a spreadsheet of names of everyone who enters the contest and on Sunday, December 20, I'll put all the names in a hat and draw five. I'm serious, I'll use a hat.
I'll ship the bundles the following week. I'll even put in a personal note.
So what do you say? Help out a friend? A writer who has only his heart to offer? Gone Dogs really (really) is a great product. That is, if you have a soul. If you don't, you won't like any of these books and there's no point in participating.
The rest of you, though …
Thank you. Really.
NOTE: If you do Instagram I'll definitely consider it (if I see it.) And thanks for spreading the word, for sure. But their dumb thing about "link in bio" keeps Instagram from being a reliable source of qualified site traffic. I don't expect anyone to put the Gone Dogs link in their bio. But if you do, great. Thanks.
NOTE: I can only ship in the US. Postage even to Canada is just too expensive. Sorry, my non-American friends. But thank you anyway for sharing.
* Technically, Mongoose is a novella. But it's still good.
***