President Trump and Melania deplane Air Force One at McCarran International and are whisked away in a black bulletproof limo to a staging area at the Trump Hotel. The crowd cheers as he enters. He raises both hands and smiles. He is wearing the same outfit he wore at the Puerto Rico news conference.
He shakes a few hands and sits at the center of a long table, flanked by his wife in dark sunglasses, the Governor of Nevada, the Las Vegas Mayor, and a few top officers of the fire and police departments.
"First of all, you know, I love Vegas. Love it. I do business here in Vegas. Big business. My staff here are some of the best." He sucks air through his teeth and leans back in his chair. Then he continues, "You know Elvis used to come to Vegas. That's why I'm wearing this collared shirt–as a tribute to The King. Anyway, in all seriousness, Vegas is a special place in all of our hearts."
He then looks left, toward a teleprompter, and reads, "The violent acts of this sick, really sick [raising an eyebrow and touching his right thumb and forefinger together], individual do not represent the compassion of the people of the United States, and certainly not proud Las Vegasans [sic]. The US Government strongly condemns the acts of this lone wolf shooter, and will do everything in our power, and within the law, to ensure it never happens again."
Reporters frantically scribble notes. Could this mark a turn in the way the Second Amendment is interpreted? Will the worst mass shooting in our nation's history finally move the needle to logic and reason when it comes to gun laws?
Trump continues, "And I want to say what a great job my first responders did. Whether its a hurricane in Houston or a shooting here in Vegas, these people step up to the plate every time." He sucks air through his teeth and leans back in his chair. "I mean, 50 people. Is that right? 50?" He looks to his right where the Mayor of Las Vegas is seated. The mayor says something inaudible, and Trump's eyebrows raise, "Sixty? Wow. That's unbelievable. It's not a tragedy like Katrina, but it's bigger than Puerto Rico I can say that."
Trump then stands and begins walking toward an area where blood supplies are being stored. "For now let's make sure the victims get what they need." He then grabs a bag of blood, "O-positive. Who needs O-positive. You?" He then lobs the bag of dark blood off camera to someone in the crowd as a woman next to him in a Red Cross shirt cringes. He grabs another bag, and shrugs, "Another O-positive. Who knew O-positive could be so popular?" He then tosses that bag into the crowd, but winces when it's dropped. "Really? It was right to you! That was just a bad catch." He then grabs some paper towels and shoots them like a free throw to the people cleaning up the dropped bag of blood.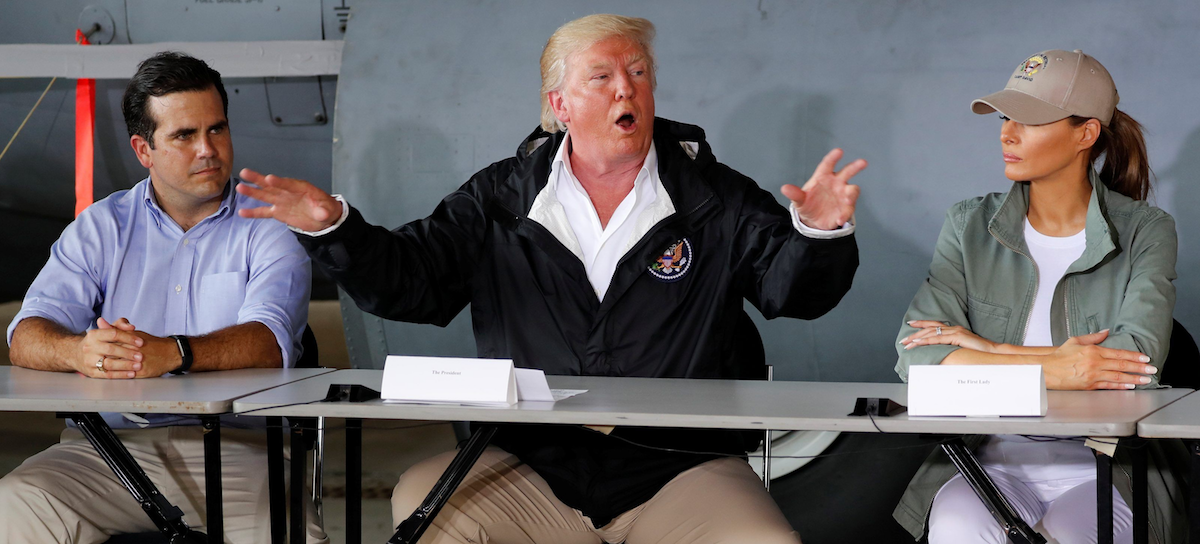 And in case it's not obvious, this is satire. No offense was intended for the victims of this horrific event. If anything you should be offended that people have access to weapons to do these sick things.