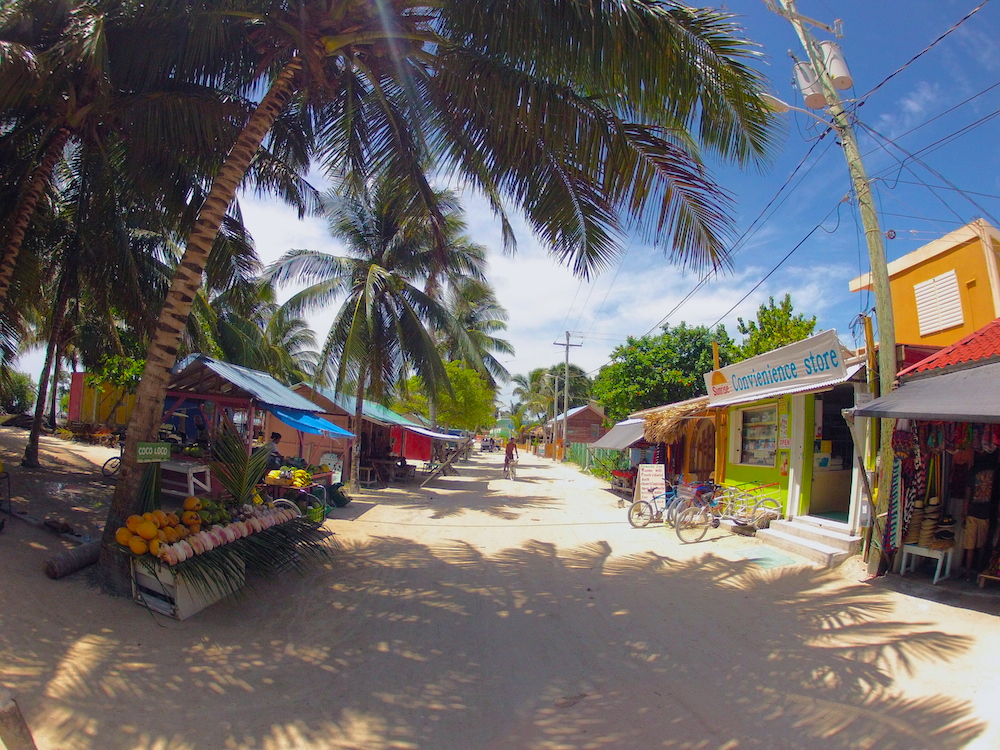 This year my family took its annual summer vacation to the Central American nation of Belize. We traveled with another family from Charlotte, who had been there before. Between their stories and the things we discovered through our own research, we were pretty excited about this two-week adventure.
After a 3.5 hour flight from Charlotte, and a quick 15 minute flight from Belize City, we arrived on Caye Caulker by early afternoon. The first thing I noticed was the sky. It was blue. There was no haze in it. The second thing I noticed were the iguanas. Actual iguanas. They were everywhere. We stayed at a hotel on the north end of the small island, near the split where Hurricane Hattie cut the island in half in 1961, permanently separating the developed part of the island from the (yet) undeveloped part.
During our short ride from the air strip to our hotel (in a stretch golf cart), our driver, who sensed our excitement, smiled and said, "Go slow." We did. I took three main things away from our two-week visit.
People. It usually takes me a few days to settle into relaxation mode when we go on vacation. Not this time. By day two I was barefoot and happy. The people were extremely welcoming. I figured that over the course of our stay, I'd peel back the layers to see something more sinister behind their smiles – like I did in the Bahamas last year – but it turned out that the people of Belize really have no ulterior motive. They're just happy. Sure, they enjoy having your business – just like you enjoy being able to go to work and generate business (and a paycheck) in America. But their smiles and hugs are sincere. These are very happy people. And the beautiful part is that they're all different: black, white, Spanish, Asian, rich, poor, Kriol, Mestizo, etc. etc. It's as though everyone in Belize lives by a code – Go slow. Be happy. And these ideals extended far beyond the little island from where we launched our adventures. Everywhere we went on our trip we were met with authentic friendliness. It was like being in an episode of The Twilight Zone.
Water. Let me just say that while the Bahamas have the best beaches I've ever seen (note – I'm talking about the outer edge of the Abacos, not the resort islands), the water in Belize is clearer and the wildlife more abundant. Whether we were hanging out on our local reef, enjoying a three-day sailing excursion from Caye Caulker to Placencia, or visiting Hol Chan marine reserve, the water was ridiculous. We saw stingrays, sharks, eels, manatee, turtles, massive Nassau grouper, and huge schools of colorful fish. We even explored a shipwreck. There was also a dock next to our hotel where we took our daily swims and explored the seagrass for starfish, conch, stingrays, and jack. I was in the water every day. And when we weren't swimming in it, we were traversing it, or getting caught in it.
Food. I went to Belize with the goal of avoiding processed food altogether. And next to drinking a few Cokes (made with 'real' sugar, though), I was able to reach my goal. We arrived in country just as lobster season was kicking off. Unfortunately, conch season had just ended, but the lobster more than made up for it. I had seafood daily. I was in heaven. We received fresh breakfast every day at our hotel – complete with fry jacks, beans, and fresh fruit. By the way – fry jacks? I can't even explain how good they are. If the people were the best thing about Belize, the food was the second best thing. Yes, even trumping the water and other natural wonders. I ate my weight in cassava and plantain chips, and drank my weight in fresh lime juice. I'm told that the local beer and rum punch is good too – if you're into that sort of thing.
I have never been more relaxed on a vacation (I went barefoot for all but two days), and have never felt more at home. Truly, I think I must have been drugged. I did routinely drink fresh coconut water, after all. In fact, I'm currently trying to figure out a way to spend more time there. We spent a night on Rendezvous Caye during a new moon – and that night I laid on my back and saw the Milky Way. It was like looking into the beard of God.
I'm convinced that somewhere in Belize, there is a ticking crocodile and a fairy who sprinkles pixie dust.
Let me sum up our visit in two words: Go. Slow.
Click here for the Flickr gallery of our trip. Click here for a video of our trip.
***