I've had one tattoo for 22 years. It's a heart ripped in two. Don't laugh. It's on my right shoulder and it's absolutely significant. Today I got my second tattoo. It's on my left shoulder. It too is significant. With all the change coming at me this year, combined with my age (47), it's easy to point at things I'm doing lately (quitting smoking, dieting, tattoo, etc.) and think I'm going through a mid-life crisis. And I suppose I may be, if you call trying to get your shit together a mid-life crisis. But the fact is, I love my life and everything about it. And I try to live as passionately as possible, day to day.
As a writer, I've often tried to describe what passion feels like – to me. I like to say that passion is a wolf in your chest clawing its way out. And if you think that sounds painful, try stopping it. That's as close to explaining the feeling of passion as I've ever come. In terms of a visual representation, today I had that tattooed on my left shoulder.
In 2007 the band Against Me! released an album called New Wave. The title track (below) resonated deeply with me, and the album art embodied what passion feels like to me. I knew right away that one day I'd get this tattoo. Today was the day.
Maybe it is a mid-life crisis. I have no idea. And frankly – I don't care. I love my life. And now whenever I try to explain passion, I can talk about the wolf, and show this tattoo. Passion is raw. It rips through boundaries to follow its own path. I'm proud to wear both tattoos. For absolutely significant reasons.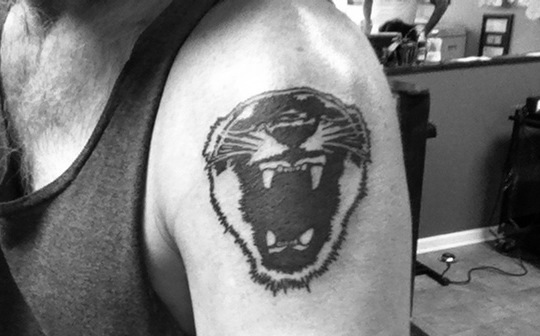 I had the work done at Fu's Tattoos in Charlotte's NoDa neighborhood, by Travis. Good guy. Talented guy. Ask for him.
Here's the title track to New Wave.
***