Saturday morning we drove to a soccer field on the other side of the planet for the first game of a weekend tournament. Our daughter Agatha, 9, has played soccer for about five years, the last two of which were competitive. And expensive. There are few (nil) minorities in this league, which I always thought was ironic considering that soccer/futbol is such a popular sport in the third world since all you need is a ball.
Agatha's team is a great mix of complimentary talents and personalities that led to a respectable 6-4 record during the regular season. They won their first match of the tournament on Saturday, 7-1. Agatha played great. She controlled the ball well, issued laser beam passes and was tenacious on defense. But it wasn't until the second game that I realized how good she is.
I'm both her biggest fan and toughest critic. It's been more of a learning experience than I expected, monitoring her game closely over the years while trying to be a parent and not a coach. Especially since I never played soccer. I did play sports though, and prefer sport to theater, so any coaching I dish out is always limited to universal ideas like leverage, speed, balance, following shots, communicating, etc. To me, sport is an amazing unscripted play where passion, determination, raw talent, and refined skills determine outcomes–not a script from a writer's imagination. Of course I want her to do her best when she plays–I know how fun it is to be competitive and leave everything on the field regardless of outcomes. And for the most part, she does that. But there were a few times this season when she mailed it in – and I've called her on it. I questioned her passion after these efforts–not as a way to tear her down, but to try and determine whether she's got the kind of competitive spirit that is necessary to succeed in sports (and life). Also, did I mention how expensive this league is?
During the second match on Saturday, she answered any questions I had about her competitive spirit. Her team was pitted against a team that was slower, bigger, and less athletic–but that led at halftime 2-0. Let's just say that the refs were "letting the girls play." And during an exchange in the second half, Agatha took a hand across the face. My daughter is on the small side, but is solidly and proportionately built. The other girl was much taller and thicker. After the smack, I saw Agatha's expression change immediately. Her hand went up to her nose, expecting blood and she was on the verge of tears. But the ball came back her way as quickly as it left, and now she and her antagonist were racing for it from opposite directions. They struck the ball at the same moment, and that's when I saw her expression change again–to something like fury.
There's a certain dull 'thud' that occurs when two soccer players connect on a ball during a straight tackle. The 'thud' from when Agatha found her fury was the loudest I'd ever heard. The other girl collapsed from the collision while Agatha tore off up field with the ball. Her team ended up winning the second game 4-3, and Agatha had a goal and an assist. It was her finest day as a soccer player so far.
And oh yeah, they won the tournament.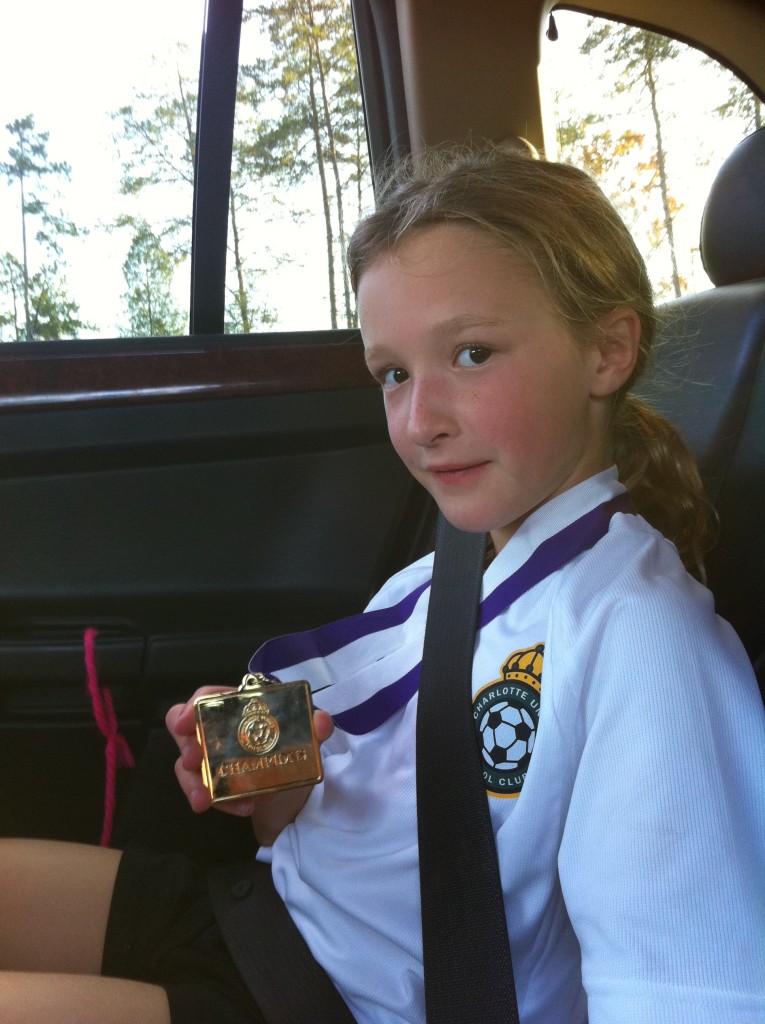 ***