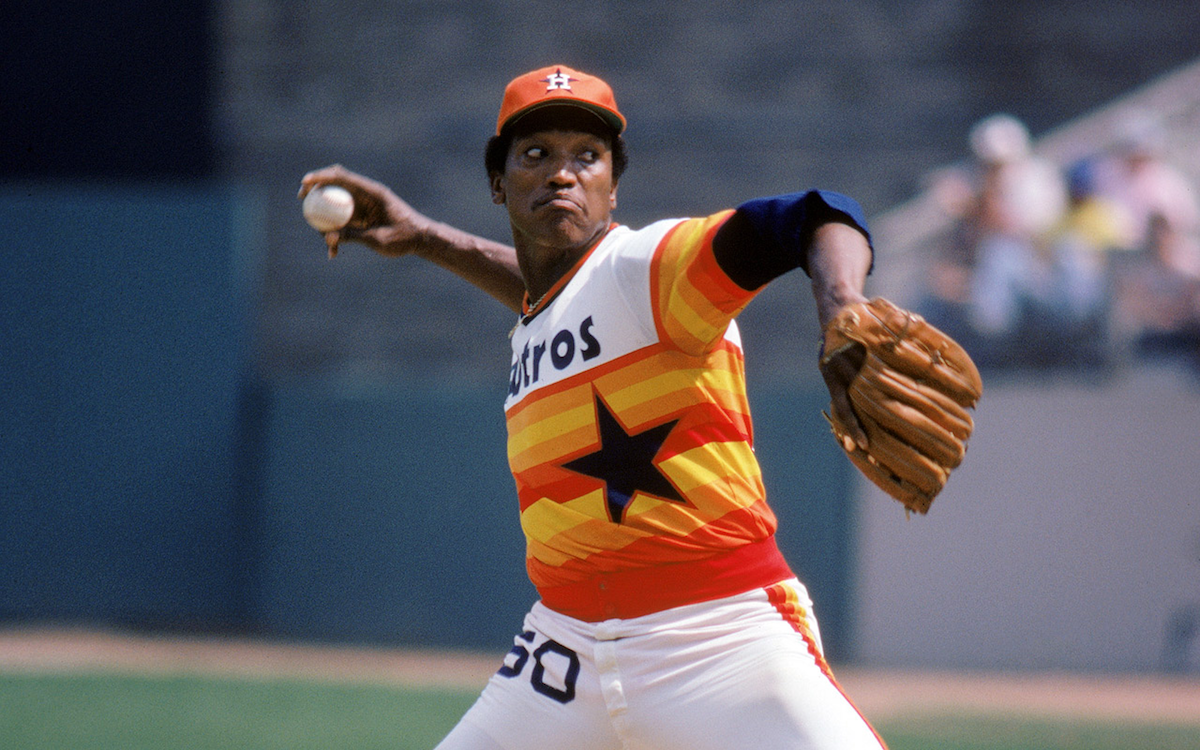 We moved to Houston in 1980, before my sophomore year in high school. That summer I attended my first Major League baseball game. 
Driving up to the Astrodome that first time was like a waking dream—I'd seen that massive metal dome often on TV, but now I was inside watching JR Richard pitch. And later that summer, Nolan Ryan. And Joe Niekro. And on one magical night in October, I attended Game 5 of the NLCS where the Astros were pitted against Pete Rose, Mike Schmidt, and Lefty. They lost that game in extra innings, 5-4. It was my first experience with a heartbreaking baseball loss.
But it wasn't my last.
I spent a lot of time at the Astrodome between 1980 and when I left Houston for the USAF in 1982. It was a long drive from Humble to The Dome, but me and my buddies figured out ways to sneak in, or we'd score tickets from visiting players by hanging around the hotel game rooms challenging them to Pacman or Galaga. The Braves were always fun to visit when they were in town because they were nice guys who had spare tickets to games. We even got to know a few of them over the years (I'm looking at you, Glenn Hubbard.)
After four years traveling around the world in the USAF, I returned for a brief time to Houston in 1986. The Astros were playoff bound again, but rather than sneak into the Astrodome, I'd listen to Milo Hamilton call games on a tiny radio while I threw bags on the tarmac at IAH for Continental Airlines. That year the Mets were the talk of the major leagues with Gooden, Strawberry, Dykstra, Carter, Hernandez and the rest of the gang. And there were two guys at Continental who were huge Mets fans—Vinny from Brooklyn, and Joey from Queens. They were obnoxious about the Mets.
The Astros didn't have the marquis names of the Mets in 86, but they did have clutch guys like Terry Puhl, Phil Garner, and Jose Cruz. Oh, and they had Mike Scott, he of a new pitch called the "split finger" fastball. His splitter was so devastating, Scott clinched the NL West for the Astros with a no hitter and won the Cy Young award that year.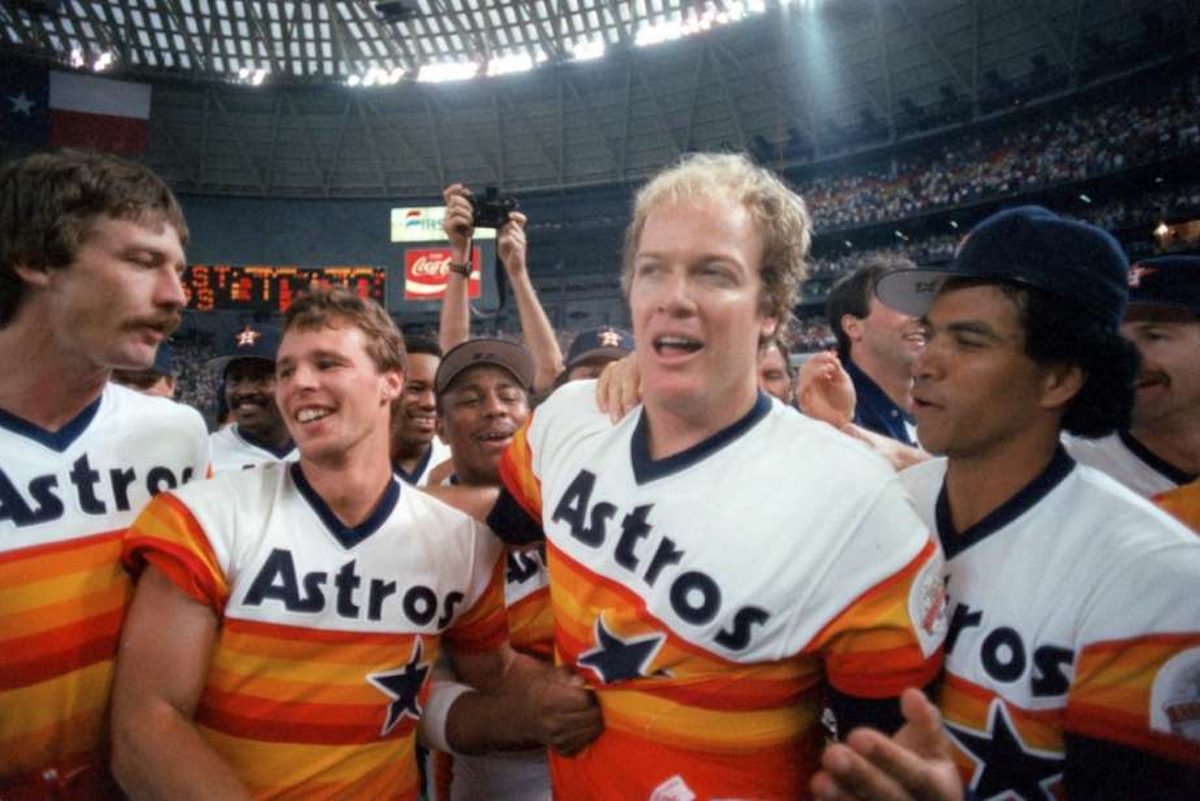 The 1986 NLCS was one for the ages. Mike Scott won the first game 1-0, and game four 3-1, and every time he took the mound the Mets were baffled. He was scheduled to pitch game 7, if the Astros could the series that far.
With the series tied 2-2, the Mets took game five 2-1 in 12 innings. The series moved back to Houston for the final two games, and the morning of game six my dad called and asked if I wanted to go to the game as someone just gave him two tickets. Of course I said yes. Because it was an afternoon game, I called out sick from work.
The tickets were at will call when I arrived at The Dome, and I wasn't paying attention to the seats as much as the electricity inside of the building. Crazy excitement. When I showed an usher my ticket, he pointed down to the field level, "Lucky you. You're on the front row, son. Down next to the bullpen!" It took a minute to gather my jaw off the floor, but I soon found my way to my seat—three feet from where Bob Knepper, that day's starter, was warming up. When I finally saw my dad, he was walking down the aisle in disbelief as though we'd just hit the baseball lottery.
To say game six was great is an understatement. It still stands as one of the greatest playoff games ever played. And I was right there. On the first base foul line. With my feet dangling over the field.
Sometime in the middle of the game Billy Hatcher hit a foul ball outside of first that came right at me. I leaned over the railing and reached to the ground, trapping the ball against the wall. But my momentum was carrying me onto the field and even though my dad tried holding my legs, I fell. When I looked up, Darryl Strawberry was standing a few feet away. The crowd went wild. I hopped back into the stands and everyone was patting me on the back, but a minute later a Houston cop came down and took me into the breezeway where he took my ball and said I had no business going onto the field. I told him to send me out of the stadium if he must, but I wanted that ball. He said no, and told me to go back to my seat before he threw me in jail. As I walked away I looked back and watched him put the ball into his pocket. When I got back to my seat, people were asking where the ball was. I told them the story and between innings a woman went down to the Astros dugout and summoned Phil Garner. Garner looked over at me and gave her a ball, which she handed to me. It was Garner's wife. We were sitting amongst the wives and family of the Astros. But of course we were.
The game went back-and-forth for 16 grueling innings, until the Astros finally succumbed to the Mets–who went on to beat Bill Buckner's Red Sox and win the World Series. After the game, we stayed in our amazing seats sitting in stunned silence for a good thirty minutes. And there were plenty of tears. It remains the most intense sports memory of my lifetime.
The next day at work all the guys said they saw me fall onto the field. Even my boss, who didn't seem to mind. And of course Vinny and Joey were gloating and obnoxious. Thanks to them, and that game, I've rooted against the Mets ever since.
I left Houston that winter and never returned. And while I've remained an Astros fan from a distance, I just didn't care very much anymore. Plus, in 1989 I moved to New York and became a Yankees fan. I remember going to The Stadium and buying nosebleed seats, then sneaking down to watch Don Mattingly play in front of usually sparse crowds. We left the NYC area in 1996, the same year Jeter arrived. Naturally.
In 2012 I took a flier on a guy named Jose Altuve for my fantasy team. That's when I started paying attention to the Astros again. Since then, 'Tuve has become my favorite player in baseball and helped rekindle my love of the Astros. We live in Charlotte now, but if we're watching baseball at home in the summer it's usually the Astros. If I'm listening to baseball on random days in summer, it's the Astros. Our daughters have jerseys of Springer and Keuchel.
I love this team. I love their dynamism, their work ethic, and their athleticism. I love that their motto is #EarnIt. And I love that the franchise emerged from lean years to rebuild their farm system and produce top talent that has gotten them deep into October.
This Astros team is the best I've ever seen. And unlike that 2005 Biggio and Bagwell team that got swept by the White Sox, I believe the 2017 team has the talent to win the World Series. Maybe more than one.
No, this isn't the same organization that I saw in 1980, but you never forget your first time. And you never, ever forget moments like I had in 1986. I just hope this season ends differently.
Let's go Astros. We got this.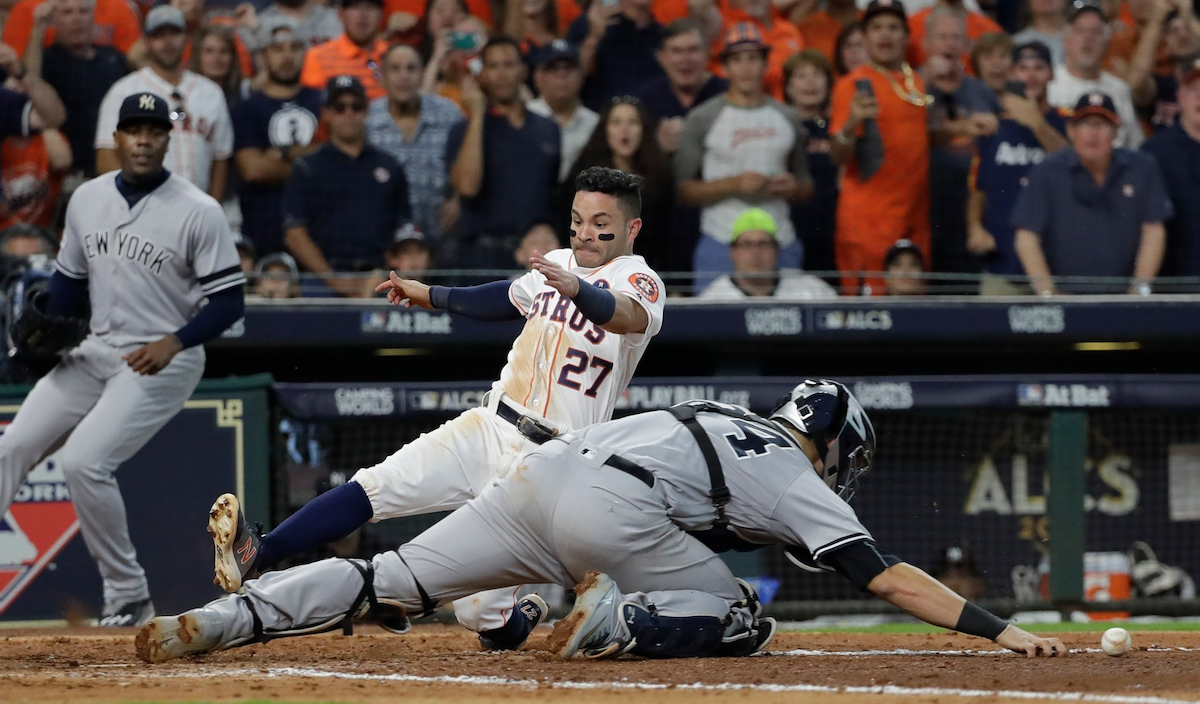 ***