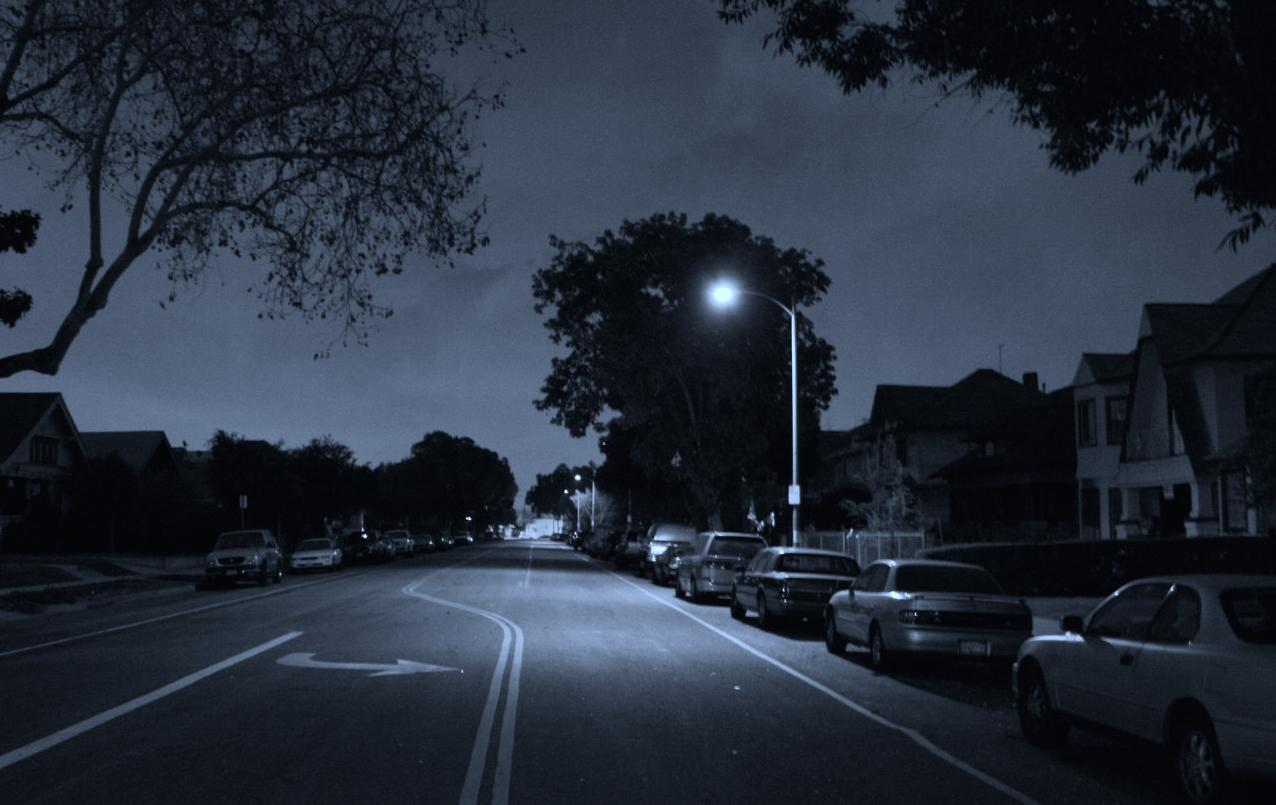 It was a long night banging my head onto my desk, writing. Sometime around 2:30 a.m. I decided to take a walk to let the cool night air seep in and, hopefully, clear some cobwebs. I stirred the dog awake and leashed him. He looked at me like I had three heads.
"Come on, boy. It's me and you," I said. And we left.
We walked down Commonwealth toward The Plaza. The neighborhood was still, but for a couple of cats that scattered from the center of the street as we approached. I couldn't help thinking how in each of the silent bungalows we passed, souls slept, oblivious to our stealthy stroll.
The farther we walked, the more confident I became that things were going to be alright. That the stories that ran circles in my mind would find their way out. I just needed to relax and get out of my own way.
We turned right on Pecan, and up ahead the signal at Central clicked as it changed, allowing ghost cars to pass. We made the right turn on Gordon Street along the dark side of The Peculiar Rabbit when a tall man with indifferent eyes emerged from a doorway holding a large gun in his right hand. He pointed the gun at my dog and fired then lifted it and pointed it at my head, and fired again. I fell to the ground.
Something interesting happens when you're on the verge of death, color disappears into shades of black, silver, and white. My eyes were open. I knew that a couple of feet away my dog was badly wounded, or dead. I began to cry for him, but was unable to move. Staring at the dirty sidewalk, I noticed a pool of silver-black goo emerging from near me. Maybe it was my dog. I couldn't tell. I started to drift asleep and was wakened by two men.
"Jesus. Fuck."
"Is he dead?"
My eyes flew open. I was still unable to move. "I'm not dead. And I know who did it," I said.
One of the men shined a light in my eyes.
"My dog," I said.
They didn't hear me. With my limited view I could see that the silvery-black goo on the sidewalk had spread.
"Yeah," one of the men said. "He's dead."
"I'm not dead," I said starting to cry. "I'm not dead!"
Then, the peace I had felt walking along the silent street minutes before swept over me.
Everything was going to be alright.
I closed my eyes and slipped away.
***