I've been playing in the same fantasy baseball league with the same guys in NY/NJ for 20 years. Back in the day, we had to use the Wednesday edition of USA Today to see the previous week's stats and then transcribe (with a pencil) all of these stats into neat little rows representing Hits, Outs, HRs, RBI, Wins, Ks, etc. etc. so that we could see who was ahead for the week. Times have changed, thank God.
The first 8 years playing, my teams always finished really low in our 10-team mixed keeper league – as I had inherited a very bad team in 1993. But then in 2001, I selected an unknown 1B who in Spring Training people were comparing to my favorite hitter, Edgar Martinez. I chose Albert Pujols fairly early on in our 2001 draft, and my team (the Laughing Dogs) has gone on to win 3 championships over the last 10 years, finishing 2nd three other times. For the past three years, my wife has managed our team (with me as a hands-on partner.) Last year we won the league. As a result, we picked last in our draft last Saturday, but we didn't do so bad. Here is our lineup going into the 2013 season (draft picks represented with an asterisk):
C Buster Posey, SF
C Miguel Montero, AZ
1B Albert Pujols, LAA
3B Pablo Sandoval, SF
EX Brandon Belt*, SF
2B Jose Altuve, HOU
SS Asdrubal Cabrera, CLE
EX Andrelton Simmons*, ATL
OF Matt Holiday, STL
OF Carlos Gonzales, COL
OF Bryce Harper, WAS
OF Carlos Gomez*, MIL
OF Yoenis Cespedes, OAK
DH Jedd Gyorko,* SD
DH Juan Francisco*, ATL
SP Clayton Kershaw, LAD
SP Matt Cain, SF
SP Jordan Zimmerman*, WAS
SP Mike Minor, ATL
SP Wade Miley*, AZ
SP AJ Griffin*, OAK
SP Miguel Gonzalez*, BAL
RP Ernesto Frieri*, LAA
RP Sergio Santos*, TOR
RP Aroldis Chapman, CIN
We also snagged a few prospects: Christian Yelich, MIA, Chris Archer, TB, and Jackie Bradley, BOS.
I think we have a good shot at repeating in 2013. God I love this time of year.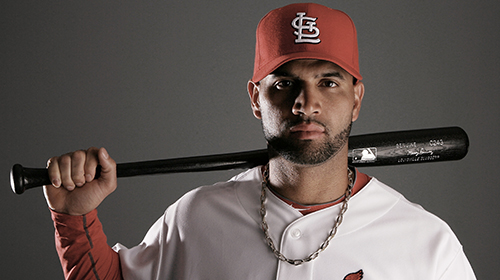 ***