Unless you live in Ukraine, you know all about Denver Broncos QB Tim Tebow and his remarkable run as a starting QB in the NFL. If not, here's the synopsis:
Tim Tebow was the 25th player selected in the 2010 NFL draft as a QB out of of the University of Florida (go Gators). Every NFL guru said he was be better suited to play fullback or linebacker, because of his size, strength and agility. But Tebow insisted he's a QB. He played sparingly in 2010, and started 2011 as the backup QB to Kyle Orton. The Broncos started out 1-4 in 2011, and during halftime of a home game they were losing against the San Diego Chargers, he was inserted as the QB for the second half. The Chargers won the game, but not before a furious finish by the Broncos – led by Tebow. Tebow remained the starting QB for the rest of the season helping the Broncos reach the playoffs with an 8-8 record. Many of the wins were improbable and dramatic come-from-behind victories led by Tebow. In their playoff game against the Steelers yesterday, Tebow threw for an 80-yard touchdown strike on the first play of overtime. Tebow's a devout Christian who wears his devotion on his sleeve (and other places).
I'm not what you'd call a devout Christian, but I am a God guy. And I think what's happening with Tebow is stinking amazing. I don't care if Tebow was Muslim, the faith he shows in his God of choice to give him strength is awe-inspiring. I grew up a Houston Rockets fan. Back in the 80s and 90s the Rockets had this guy named Hakeem (later changed to Akeem) Olajuwon who was a devout Muslim. I remember that he even fasted during Ramadan – despite still playing games. He always thanked his God for his ability and faith. I thought it was admirable. Olajuwon didn't have that many haters, as far as I recall. But with Tebow – you'd think he was a religious hypocrite if you listened to half the population right now. Maybe it's because half the population is not Christian? I don't know. But what I do know is that he's making a lot of people (mostly the NFL gurus) look silly. He CAN'T play QB. His rating is too low. Also, bumblebees can't fly.
So the question is, is God helping Tebow win? Don't answer that – you aren't qualified. Neither am I. Neither is any human. But let's say for a second that there IS a God who is the master of the infinite universe. If so, then the amount of knowledge we have about His power probably amounts to a pimple on His ass. But hey, that doesn't stop people from speculating whether God is involved in the Tebow spectacle. Even Social Media gurus.
Last night after the game, I saw someone retweet a well-known social media guru with a tweet that said something like, "If you think God is helping Tebow win, then you don't know God very well." Right. And YOU DO Mr. Social Media Guru? I'm not going to sit here and tell you that Jesus is helping a football team win because of the relationship the team's QB has with Him. But I'm not going to sit here and tell you that this isn't happening, either. I'm not qualified. No one is. No. One.
So go ahead and hate Tebow if you want to. Talk about his pathetic QB rating or that wounded duck he throws most of the time. Mock him for his faith in a power greater than himself to lead him on a football field. It doesn't matter. Not to Tebow.
Will the Broncos win next weekend against the mighty New England Patriots in Massachusetts versus a Hall of Fame (note REAL) QB in Tom Brady? Unlikely. But you never know. And even if the Broncos don't win, that's not important. It's too late for the gurus to say "I told you he wasn't a real QB." What's important is that you suck it up and accept that there's a man who plays QB for the Denver Broncos who believes with his whole heart that his God of choice is the driving force in his life. It's rare to see such faith on display in popular culture. I happen to think it's great.
Nobody expects the Spanish Inquisition. Or Jesus helping a football team. Stranger things have happened. Don't believe me? Read the bible.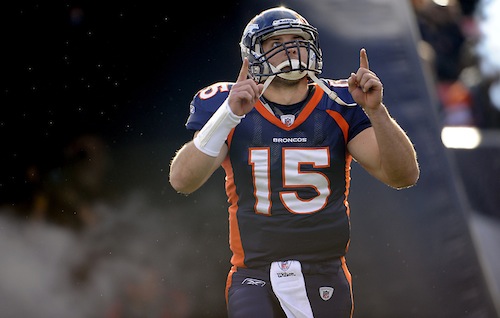 ***