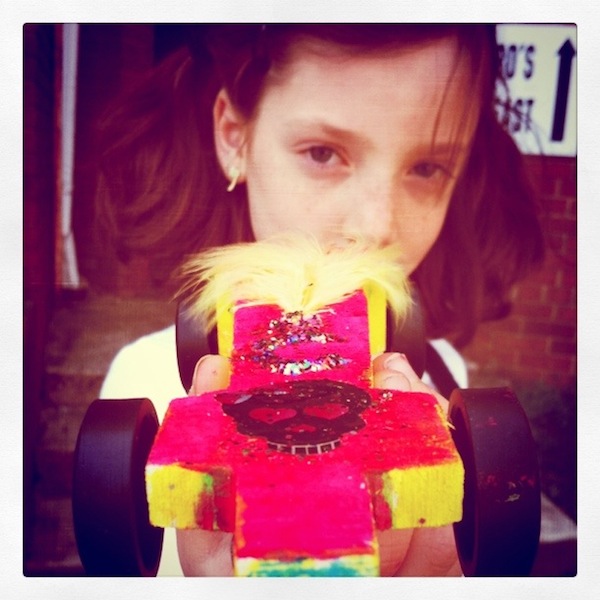 I love my kids more than I ever thought possible. They're my little people. My legacy. Two humans brought into the world as the result of serendipitous true love. And they're complete opposites. Agatha Rose is ten. She's an athlete. Blond hair. Brown eyes. Olive skin. Cozette is seven. She's an artist. Brown hair. Blue eyes. Freckles on porcelain.
Agatha has been playing soccer for years, and also dabbles in chess. Cozette takes painting lessons at a gallery, and drama at the Children's Theater. Agatha's used to competition. Cozette is not. For years we've all supported the big sister in her athletics as she wins and loses on the field. In drama, art, and even dance the year she took lessons, Cozette's never really had to compete. Except against her sister for our attention. Additionally, both kids attend Montessori school, so competition's not a priority there either. That's why last week when her Brownie troop had their annual boxcar derby race – a lot was on the line for Cozette.
And it couldn't have gone any worse.
It all started the weekend before when, in an attempt to bring fathers and daughters together, her Brownie troop had a thing at the church for dads and daughters to assemble and paint these fairly cheap boxcars together. I was never a scout, and didn't have the patience for building models as a boy, so when we were tasked with building the car, I pounded the axle into the groove with a hammer to get it to fit. Then we popped on the plastic wheels and glued on the tiny hubcaps. Cozette painted it, attached a feather and sprinkled the hood with glitter. Satisfied with our creation, we left the Brownie event to go watch her sister play soccer. Agatha scored and her team won. Cozette played on the playground. During the ride home, we made sure to not only talk about the soccer match, but also made a fuss about Cozette's beautiful car.
Until the night of the boxcar race, nothing more was really said about it.
My wife had to work, so I took Cozette to the race and Agatha came along for support. Once we arrived, I noticed Cozette's mood change. Despite the fact she was among friends, she seemed unusually nervous. At one point, as I was talking with another parent, Cozette ran up and threw her arms around my waist. It looked like she was going to cry. Or vomit. So I whisked her into my arms to see what was wrong. "I'm scared, Daddy." She whispered. And then, "I wish Mommy was here." I understood completely. We're a tight family and do most things together. Especially big things. And to her, this race was a very big thing.
During the pizza portion of the festivities, Cozette continued to look frazzled, and couldn't eat. Then the time came when the master of ceremonies called all the girls to the race track which was set up in the center of the room. He had them turn in their cars to be judged for creativity. Cozette handed hers in last, and I watched her from across the room as she paid close attention to the two adults quietly poring over the entries. A few moments later, the racing began.
All the girls lined the track to watch as cheap toy cars with metal weights were pulled by gravity two-by-two along a thin wooden track until they crossed a finish line. Several other cars raced before Cozette's, so I figured she must have gotten some of her butterflies out by observing how other kids reacted to winning and losing. When her car was placed into the starting block, I saw her snap her eyes tightly shut and lower her head a little. And they were off – speeding downward and into the straightaway where they would coast to the finish as everyone watched to see which car's nose edged across the line first. Only, Cozette's car didn't make it down the straightaway. It stopped halfway. And every kid in the room pointed at the little red car with the yellow feather and the letter 'C' embossed in glitter, and laughed.
I knew it was going to be bad. And it was. She threw her head into her hands and openly cried. I was on the other side of the room and didn't know what to do. I hadn't planned on a disaster of this magnitude. Sure, I expected her to lose at least one of her races, since each car had to lose twice to be disqualified. And I was prepared for that. On the ride over, we even talked about how losing helps you become a better winner, and that winning isn't the most important thing. You know, the basic bullshit. But then there she was, my seven-year-old baby girl in her Brownie vest with her head in her hands; her heart utterly shattered after her car failed to make it to the finish line. And I was stumped.
Part of me thought to hurdle the track and sweep her up in my arms and tell her that everything was going to be ok. But part of me said not to. When the laughter died down, everyone turned to her. A couple of kids wrapped their arms around Cozette and a few seconds later, the troop leader embraced her. I felt the stinging gaze of every parent in the room urging me to go to her – so I started walking over. Still not sure what to say. I could tell her that it was my fault for not being a better father and not knowing how to properly place a tiny metal axle into a small wooden groove. And it was my fault. But that wasn't the lesson. I could say that next year we'd do better. That I'd research and take more care and that we'd dominate every other car in the competition so no one would ever laugh at us again. But revenge wasn't the lesson either.
I stood next to her. The troop leader looked up at me with tears in her own eyes. I knelt down and softly called her name. At this point, the emcee was wise enough to continue the competition to distract from the complete meltdown taking place trackside. Cozette looked over at me, "Oh Daddy…" she said as she buried her head into my shoulder sobbing. I half expected her to wish for her mommy again, but she didn't. We hugged for a long time. I wanted to say that it was all right. But it wasn't. It was far from fucking all right. Both of us were in a space where we didn't know what to do. So we just stood there. Hugging. A moment later, her sister joined us.
Eventually, Cozette found her balance. Yes, she lost the second race too, and yes the car stalled again. No, she didn't win a prize for best decorated car. But she found her balance. Which is more than I can say for me. A week later, I'm still looking for some kind of lesson. I know that this story might not affect you the way it did me, but let me just say that in the ten years I've been a parent I've never experienced anything like what happened at the boxcar race. When you love your children, you care in ways that you don't even understand. Sure, you try to protect and guide them and give them the knowledge they need to stumble less often in life. And of course you give them the love and support they need to confidently approach life's challenges. But, evidently, there are times when the lesson is not intended to be the child's alone.
Whether you're a child or an adult, life is just hard. And sometimes you don't know what to do. Except keep going.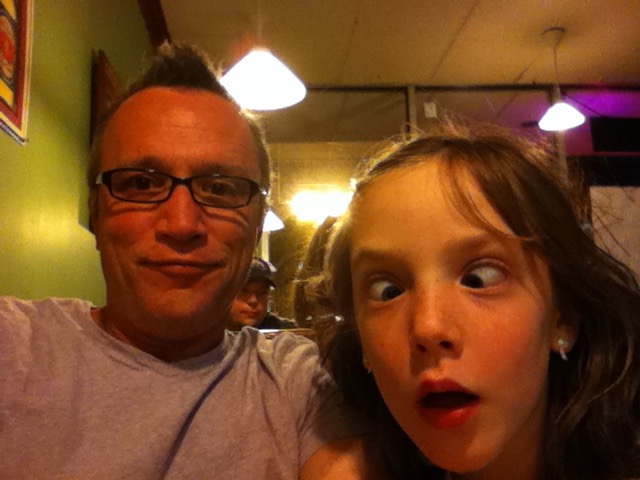 Me and Cozette at dinner the night after the big race.
***