September 1979, Baton Rouge, Louisiana. I was thirteen. The LSU Tigers and their legendary coach Charlie McClendon were hosting the nation's #1 team, the USC Trojans, in Death Valley. We had tickets to the game.
We'd moved to Baton Rouge that summer from Florida. The Gators were terrible that year, and LSU was in the SEC, so we paid attention. The Tigers weren't all that great that year either, but on this Saturday they had the #1 team in the country in town, along with the #1 player, Charles White. And it was a party.
We lived pretty close to campus, and the town was electric in the days leading up to the game. Having lived in Jacksonville my whole life, the closest reference point I had was the annual Florida-Georgia game, which was always a pretty big deal, but this was different. We were in a college town now. There was no escaping the frenzy.
We parked on a side street and walked across campus. The noise level rose as we approached the stadium. And when we finally reached it, we joined in the chants of "TIGER BAIT!" as the USC bus pulled up. Police had to form a barrier to provide safe passage for USC players and coaches entering the stadium. "TIGER BAIT! TIGER BAIT!" we all shouted. And then, when Charles White exited the bus to enter the stadium, it appeared.
One of the interesting architectural features of Tiger Stadium back then was that it had dorm rooms built inside the stadium. Dorm rooms for male students. On Saturdays during home games, the male students drank. Hard.
Before Charles White took two steps off of the bus, a gigantic, fully-erect paper maché penis, complete with testicles and pubic hair, appeared from out of one of the dorm room windows facing the bus. My mom let out a gasp and and my dad tried to hold in a laugh. "TIGER BAIT! TIGER BAIT!"
Charles White smiled as he jogged into the stadium.
The game itself was one for the ages. To this day I've never attended a sporting event that was so loud. But in the end, LSU lost in the final minute in what has been called one of the greatest games ever played at Death Valley.
When the 1979 college football season came to a close, the Trojans finished #2 (to Alabama), Charles White won the Heisman Trophy, and Charlie McClendon retired.
We attended one more game at Death Valley that year, but took a different entrance into the stadium.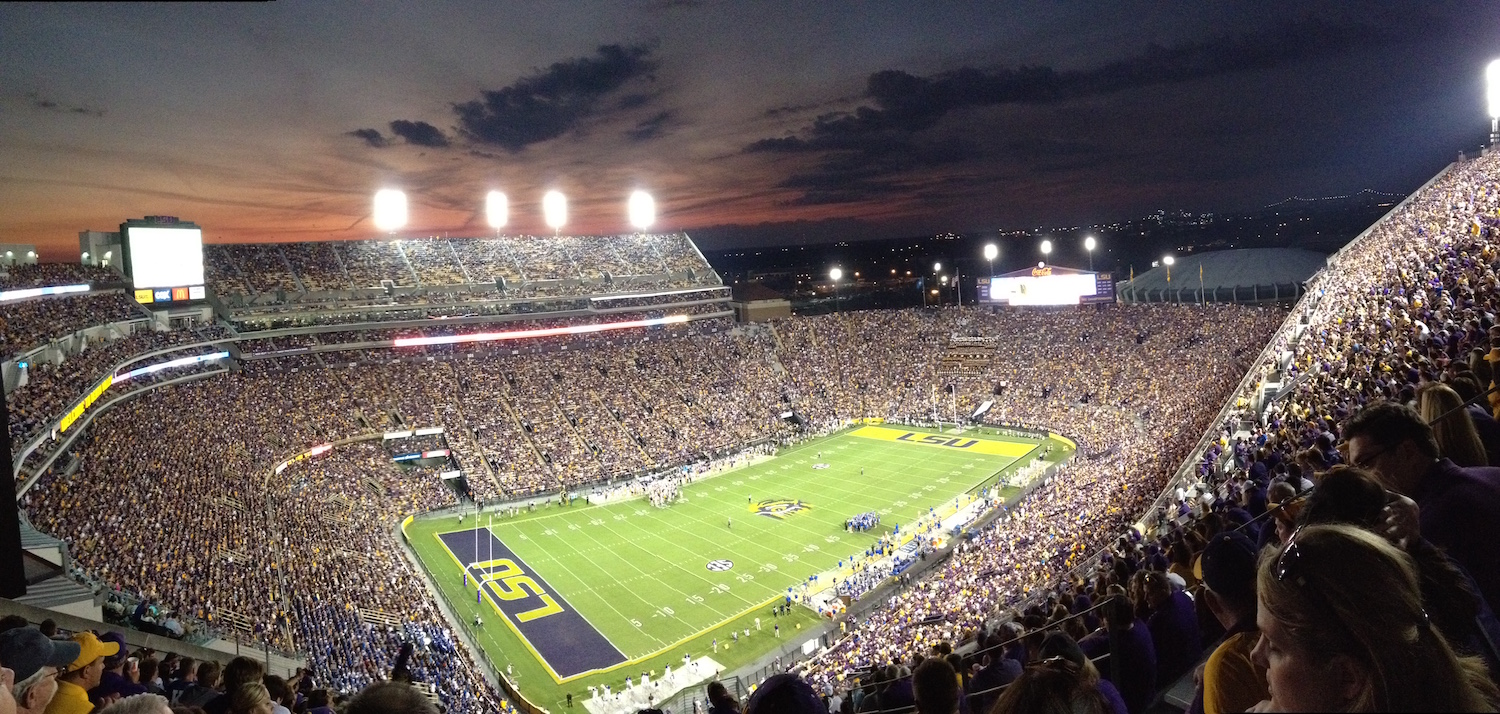 ***